Raja Senanayake has been appointed to the Board of Commercial Bank of Ceylon PLC as a Non-Executive Independent Director with effect from 16 September.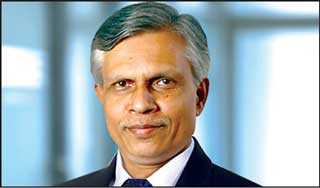 Raja Senanayake
---


Senanayake is a Fellow Member of CA Sri Lanka with 30 years of post-qualifying experience and holds a B.Com (Special) degree f.om the University of Sri Jayewardenepura with a second class upper division Pass and a Postgraduate Diploma in Business Management from the PIM of the University of Sri Jayewardenepura.

Having completed his articles at Ernst & Young and qualifying as a Chartered Accountant, he joined Singer Industries (Ceylon) Plc In 1991 as the Financial Accountant. In 1994. Senanayake joined Commercial Bank of Ceylon Plc as the Senior Manager Finance and worked for 13 years and was the Assistant General Manager (Finance & Planning) when he resigned. He also served as the Chief Financial Officer at the Nations Trust Bank PLC.

He works for Smart Media The Annual Report Company and is currently heading the Smart Academy, an International Integrated Reporting Council (IIRC) Accredited Training Foundation Partner. Senanayake is also an Independent Non-Executive Director of Serendib Finance Ltd., a fully owned subsidiary of Commercial Bank of Ceylon PLC since October 2014, an Independent Non-Executive Director of Senkadagala Finance PlC since April 2017 and a Director of Virtual Capital Technologies (M) Ltd., a software development company that specializes In enterprise solutions in the real estate, retail and telecom spaces catering to the New Zealand and the Australian market since August 2017.

Senanayake is passionate about and possess extensive domain knowledge on the financial services industry, financial management and corporate reporting In particular, including such aspects as risk management, capital management, corporate governance, compliance, sustainability and integrated reporting. Besides many other local and overseas training programs, he has undergone training on banking and finance with Euromoney and on general management with the National University of Singapore.

With the latest appointment the Board of Directors of Commercial Bank of Ceylon Plc comprises K.G.D.D. Dheerasinghe (Chairman), M.P. Jayawardena (Deputy Chairman), S. Renganathan (Managing Director and CEO), S.C.U. Manatunge, A.K.W. Jayawardane, K. Dharmasiri, L.D. Niyangoda, N.T.M.S Cooray, G.S. Jadeja, T.L.B. Hurulle, K. Sripavan, J. Lee and R. Senanayake.