Parallel shift downwards of the overall yield curve
FED raises benchmark rates
The week ending 15 December witnessed a robust outcome at the weekly Treasury bills auction where weighted averages crashed to lows of 8.48% and 9.04% respectively on the 182 day and 364 day maturities against its peaks of 10.79% and 11.11% recorded on 19 April for the year 2017.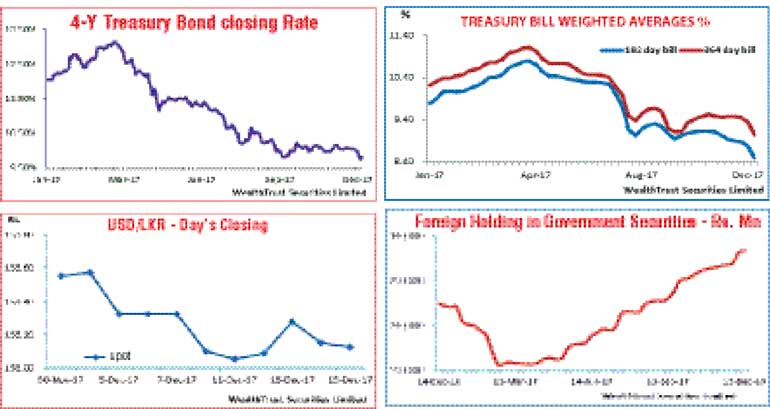 Secondary bond market yields continued a decreasing trend during the first half of the week. The yield on the liquid four-year maturity of 15.12.2021 was seen hitting a low of 9.77% in comparison to its peak yield of 13.13% recorded on 16 March 2017.

In addition, the yields on the maturities of 01.05.20, 15.05.23 and 01.08.26 were seen dipping to weekly lows of 9.55%, 10.00% and 10.15% respectively as well.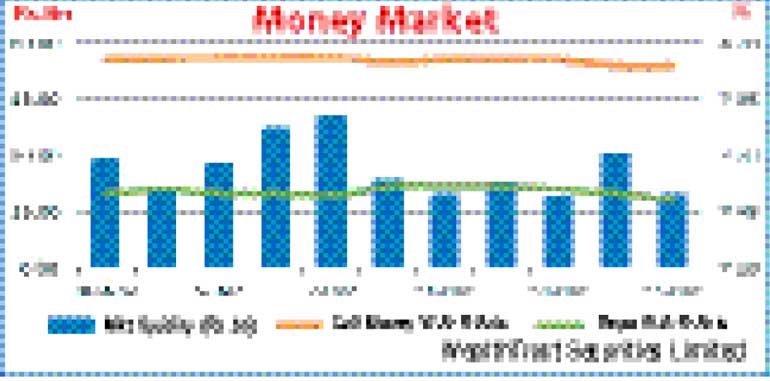 However, following the US Federal Reserve's policy decision where policy rates were increased by 25 basis points coupled with profit-taking, yields were seen reversing their downward trend and increasing once again to hit highs of 9.57%, 9.82%, 10.07% and 10.25% respectively on the 01.05.20, 15.12.21, 15.05.23 and 01.08.26 maturities, while two-way quotes on the rest of the yield curve were seen increasing and widening. Nevertheless, the overall yield curve recorded a parallel shift downwards on a week on week basis.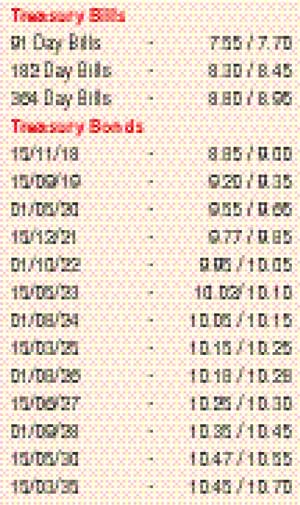 The foreign holding in rupee bonds continued to increase with an inflow of Rs. 1.98 billion for the week ending 13 December 2017 against its previous week's inflow of Rs. 11.21 billion.

The daily secondary market Treasury bond/bill transacted volume for the first four days of the week averaged Rs. 5.12 billion.

In money markets, the Open Market Operations (OMO) Department drained out liquidity throughout the week on an overnight basis at a weighted average of 7.25% as the average net surplus liquidity in the system stood at Rs. 21.75 billion during the week. The overnight call money and repo rates remained mostly unchanged during the week to average 8.12% and 7.54% respectively.
Rupee dips during the week

The rupee on spot contracts closed the week lower at Rs. 153.10/20 in comparison to its previous week's closing levels of Rs. 153.00/10 subsequent to hitting an intraweek low of Rs. 153.01 and a high of Rs. 153.50.

The daily USD/LKR average traded volume for the three days of the week stood at $ 64.24 million.

Some of the forward dollar rates that prevailed in the market were one month - 154.00/20; three months - 155.80/00 and six months - 158.60/70.