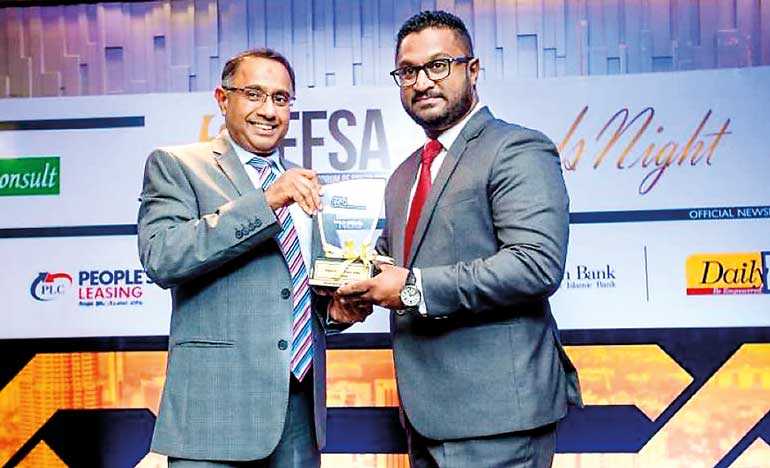 'CSR Project of the Year' Gold award of IFFSA – 2018 being received by PLC Al-Safa unit Assistant Manager Hikam Hussain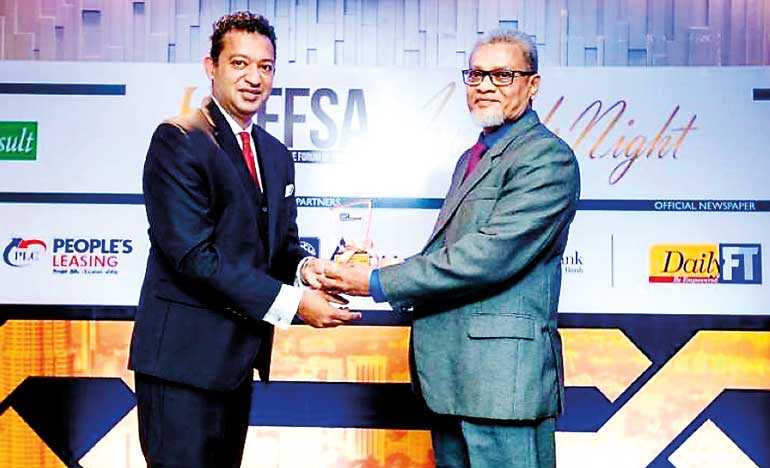 'Islamic Finance Product of the Year' Bronze award of IFFSA – 2018 being received by PLC Al Safa Islamic finance unit Chief Manager Mohideen Maharoof
PLC Al-Safa Finance Unit's staff
---
People's Leasing & Finance PLC enjoys its position as one of the leading nonbank finance sector companies in Sri Lanka. Al-Safa Islamic finance unit of PLC bagged two prestigious awards at the IFFSA – 2018 (Islamic Finance Forum of South Asia) which is held annually to recognise exceptional personnel within Islamic bank and finance services sector in South Asia. The third edition of IFFSA – 2018 was held at Cinnamon Lakeside hotel, Colombo.
PLC's Al-Safa Islamic finance unit bagged 'CSR Project of the Year' Gold award as well as 'Islamic Finance Product of the Year' Bronze award at the award ceremony. The significance of IFFSA awards is recognition conferred on exceptional individuals from thousands of Islamic finance companies operating in India, Pakistan, Bangladesh, Maldives and Sri Lanka.

Mohideen Maharoof, Chief Manager, Al Safa Islamic finance unit, PLC, said PLC winning two coveted awards at the IFFSA – 2018 endorses the fact that within Sri Lanka PLC functions as an exceptional Islamic Finance services provider.

"IFFSA awards are conferred on best Islamic Finance companies in South Asia thus it is significant. PLC commenced its Al-Safa finance unit in 2005. We do our finance services under Shari'ah principals and within the guidelines specified by Shari'ah monitoring unit," he said.

"Currently PLC provides Islamic finance services to customers via eight Al-Safa units and a wide range of Islamic finance services could also be obtained by any PLC branch within the country," he added.

People's Leasing was commissioned in 1995 as a wholly owned subsidiary of the second largest state bank in Sri Lanka, the People's Bank.

Fitch Rating Lanka has assigned PLC a credit rating of AA- (lka) which makes PLC the highest rated Finance company in the country. PLC is the only Sri Lankan Finance company to have two international ratings of which one is equal to the Sovereign from Standard & Poor's ('B+/B') and the other is one notch below the Sovereign from Fitch Rating International ('B').

People's Leasing conglomerate consists of six subsidiaries namely, People's Insurance PLC, People's Microfinance Ltd., People's Leasing Property Development Ltd., People's Leasing Fleet Management Ltd., People's Leasing Havelock Properties Ltd. and its latest foreign venture Lankan Alliance Finance Ltd.

The uniqueness of People's Leasing is its strength and the stability to provide diverse financial solutions under one roof to its customers, thus enabling the customers to obtain convenient and customer friendly services.