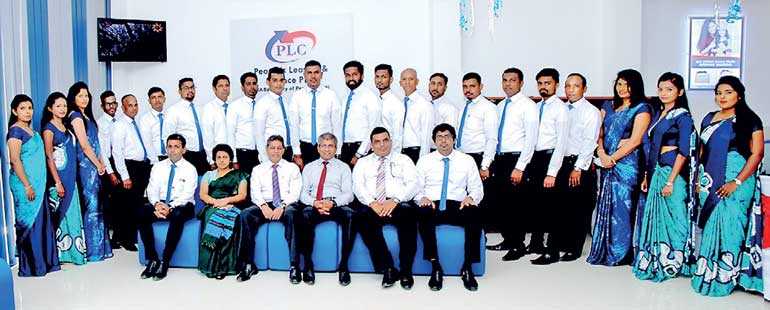 Staff of People's Leasing Horana branch with the senior management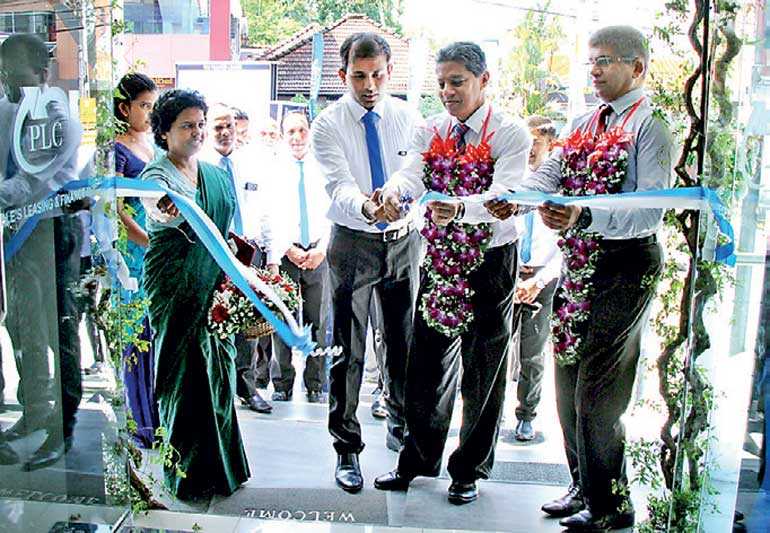 People's Leasing & Finance CEO/GM Sabry Ibrahim unveils the relocated People's Leasing Horana branch. Also present are Senior Deputy General Manager Sanjeewa Bandaranayake, Chief Manager Priyanka Wimalasena and Horana Branch Manager Nuwan Tharanga
---
People's Leasing & Finance PLC (PLC), in a bid to cater to a greater volume of customers through an enhanced and hassle free customer service, upgraded and relocated its Horana branch to a more spacious location.
The relocated branch (171 – A, Ratnapura Road, Horana) was inaugurated by People's Leasing Chief Executive Officer/General Manager Sabry Ibrahim.

Horana is one of the fastest developing areas in Sri Lanka has given light to many startup businesses and an enhanced lifestyle for people. Hence people visiting People's Leasing to obtain financial services have increased in an unprecedented manner. To cater to this new need PLC shifted its Horana branch to a prime location.

The occasion was also graced by Senior Deputy General Manager Sanjeewa Bandaranayake, Chief Manager (Operations) Priyanka Wimalasena and Horana Branch Manager Nuwan Tharanga with a host of PLC customers.

Bandaranayake, addressing the gathering at the occasion, said, "Horana is a fast developing area with the new awakening of a vibrant business culture. People who are living in the vicinity of Horana have entrusted their faith on People's Leasing for their financial needs and it is a positive sign. Hence we saw the need for a more sophisticated PLC branch in Horana located at a better place. Hence we relocated our PLC branch to provide more customer friendly, hassle free and convenient financial services. Now people living in the vicinity can obtain People's friendly financial services from our new branch."

He added: "We are a one-stop-shop. Hence I humbly invite people in the vicinities of Horana to step into this newly relocated PLC branch and obtain services pertaining to leasing and finance in a fast and friendly manner. I hope your businesses will thrive and personal lives will be enriched through the association with People's Leasing."

People's Leasing started its business operations in 1996 as a wholly-owned subsidiary of one of the largest State banks in Sri Lanka, the People's Bank.

Fitch Rating Lanka has assigned PLC a credit rating of AA- (lka) which makes PLC the highest rated Finance company in the country. PLC is the only Sri Lankan Finance company to have two international ratings of which one is equal to the Sovereign from Standard & Poor's ('B+/B') and the other is one notch below the Sovereign from Fitch Rating International ('B').

PLC's financial service product portfolio includes; leasing, auto loan, fixed deposits, saving accounts, housing and business loans, gold loan, margin trading, factoring and Islamic financial services.

People's Leasing conglomerate consists of six subsidiaries namely, People's Insurance PLC, People's Micro-Commerce Ltd., People's Leasing Property Development Ltd., People's Leasing Fleet Management Ltd., People's Leasing Havelock Properties Ltd. and its latest foreign venture Lankan Alliance Finance Ltd.

The uniqueness of People's Leasing is its strength and the stability to provide diverse financial solutions under one roof to its customers, thus enabling the customers to obtain convenient and customer friendly services.