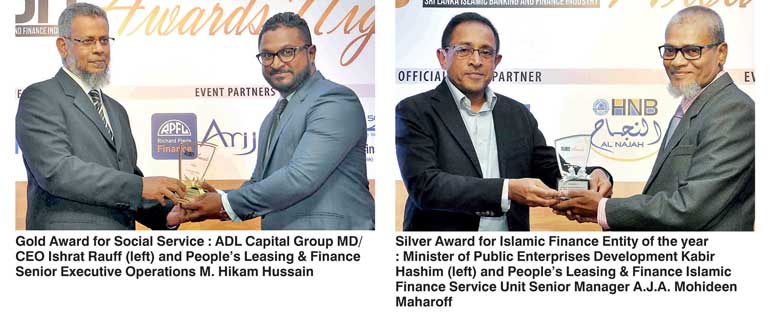 Al Safa, the Islamic Finance Unit of People's Leasing & Finance PLC (PLC), recently won top honours at theSri Lanka Islamic Banking & Finance Industry (SLIBFI) Awards held recently at Hotel Ramada Colombo.

Al Safa (AIF)won the Silver award for Islamic Finance Entity of the year, marking AIF's commitment to maintaining Shari'ah compliant standards as a key highlight in their Islamic banking operations. It also received the Gold Award for Social Upliftmentat this prestigious awards ceremony.

AIF was also honoured at the Islamic Finance Forum of South Asia (IFFSA). This event recognised players from countries across Asia including India, Pakistan, Bangladesh, Maldives and Sri Lanka. AIF won the Bronze Award for the 'Islamic Leasing Company of the Year' recognising its accomplishments in the Islamic banking and finance industry for the South Asian region.

AIF Senior Manager A.J.A. Mohideen Maharoof commenting on the awards said that AIF saw them as a recognition of their exceptional commitment to highest Islamic banking standards since commencing operations in 2005.

Among their current products are Ijarah, theShari'ah way of acquiring vehicles and machinery and Murabaha involving financing for purchase of assets and trading merchandise. AIF offers investment options to its customers including Mudharaba which allows savings and fixed investment the Shari'ah way. Minors are given the option to save through the Usfoor savings scheme.

AIF recently launched the product Musharakah which is a joint venture form of acquiring assets such as vehicle, machinery, land and building for housing and working capital requirements. Maharoof affirms that they are also planning to launch Wakalah in the near future.

AIF operations are carried out through dedicated branches as well as through Islamic window units. At present, the Islamic Business Unit consists of eight dedicated branches located in Union Place, Dehiwala, Kandy, Kalmunai, Kattankudy, Puttalam, Muttur and Kinniya. He pointed out that there are plans to extend this network to three more dedicated Islamic banking units in the South, East and the North Central Province.

Almost all other PLC branches operate an Islamic window Unit. The purpose of this Unit is to cater to the growing needs of Islamic financing arrangements frequently sought by the Islamic community where PLC branches operate.

People's Leasing & Finance has emerged asone of thebiggest player in the non- banking financial services industry in Sri Lanka today and possess an asset base of over Rs. 150 billion. The company has an extensive reach among a wide customer base in the country.