At World Finance Digital Banking Awards 2020
---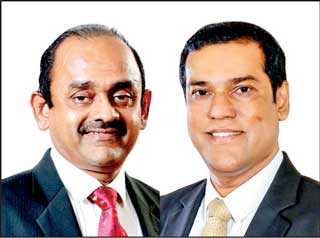 People's Bank Chairman Sujeewa Rajapakse and CEO/GM Ranjith Kodituwakku
People's Bank has won Sri Lanka's 'Best Consumer Digital Bank' while the People's Wave App has been crowned the 'Best Mobile Banking App' at the World Finance Digital Banking Awards 2020. These accolades not only emphasise the bank's success but further cement its position as Sri Lanka's Most
Digitalised Bank.

World Finance is a quarterly magazine that covers international business, the global economy and the financial industry. The World Finance Digital Banking Awards are the benchmark for global recognition in the financial industry and People's Bank has been honoured with two awards for the year 2020.

Sri Lanka's digital banking landscape has become exceedingly competitive throughout recent years and the COVID-19 pandemic in 2020 saw an immense rise in the need for digital banking solutions. These awards and other international recognition like being crowned as the 'Best Digital Bank' at the Asiamoney Best Bank Awards 2020, underscore the extent to which People's Bank's digitalisation has been instrumental in paving the way in Sri Lanka's digital banking sphere.

Sharing his thoughts on these latest accolades, People's Bank Chairman Sujeewa Rajapakse said: "People's Bank is delighted to be recognised on a global stage yet again for our continued commitment to App technology and innovation. We couldn't be prouder of the accolades we have achieved thus far, as it further makes clear that we are leading the way in Sri Lanka's digital banking landscape."

People's Bank Chief Executive Officer/General Manager Ranjith Kodituwakku stated: "Our commitment to digitalisation has helped us achieve a lot already, and we are excited to see where it takes us in the future. This commitment and these accolades have further cemented our place among some of the world's leading financial institutions, which in itself is a great achievement, and we could not be prouder."

People's Bank's digitalisation drive has witnessed a number of ground-breaking digital initiatives being launched in the local market. The bank is the pioneer to launch Self-Banking Units (SBUs), a unique concept consisting of ATMs, Cash Deposit Machines (CDMs) and Kiosk machines enabling customers to bank at their convenience 24x7x365.

'People's Wave' is the revolutionary mobile banking app which has become the most downloaded finance app in Sri Lanka, gaining an impressive 4.3 rating on Google Play Store and with over 900,000 downloads, this app has received international acclamation garnering several awards for its superlative features.

'People's Wiz' is the first-ever digital customer on-boarding application in South East Asia, Africa and the Middle Eastern region. Since its launch, over 1.1 million customers have been onboarded digitally through People's Wiz. 'People's Wyn' is a specially-designed module for corporate clients, which is available as an internet banking portal and a mobile app. It provides great convenience, speed, flexibility and privacy for corporate clients to conduct their banking transactions.

'People's Web' internet banking portal is synced with the People's Wave mobile app. With enhanced features that deliver an exceptional customer experience, the portal is used by over 500,000 customers.

'People's Wiz' Retail Loan Originating System (RLOS) is one of the bank's key innovative digital banking projects which enables bank to disburse personal loans within 24 hours with minimal documentation.