People's Bank has launched a cluster of loans aimed at empowering micro, small and medium sector businesses to scale up and become financially viable. These loans schemes are aligned with 2017 Budget Proposals to uplift the SME and Commercial Sector under the 'Enterprise Sri Lanka' Banner.

People's Bank's new loans consist of concessional, re-finance and interest subsidised loans to address every obstacle faced by small and medium scale entrepreneurs in terms of accessing financial support. Demonstrating its commitment to help its target groups avail of these new loans, People's Bank has established Regional Credit Units in the Regional Head offices covering 348 branches island-wide where trained and dedicated teams will help entrepreneurs secure the ideal credit facilities for their businesses.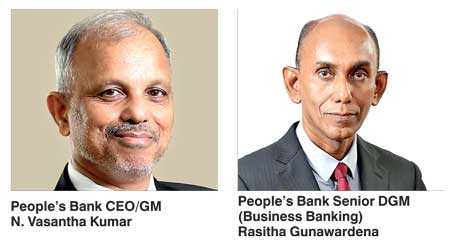 The Regional Credit Units will also provide non-financial assistance, flexible conditions, less paperwork and act in an advisory capacity to facilitate approval and documentation. Further, they will provide advice on business plans and marketing. This initiative will go hand-in-hand with a series of seminars organised by People's Bank on Banking, Strategic Marketing, Finance Management, Accounts and Taxes, titled 'Entrepreneurial Glory', which are open to all enthusiastic entrepreneurs.

Commenting on the occasion, People's Bank CEO/GM N. Vasantha Kumar said: "People's Bank remains committed to partnering the socio economic progress of the nation as it has done for decades before. These new cluster of loans are devised to address critical needs of micro, small and medium scale businesses in order for them to upscale their businesses. The SME sector has the potential to be the driving force behind economic growth and these loans will inspire more small scale entrepreneurs to dream big, not that they can access these loans for a variety of business needs. The newly-established Regional Credit Units will offer specialised services to loan seekers to ensure that they get the financial and technical support they need."

People's Bank Senior Deputy General Manager (Business Banking) Rasitha Gunawardena said: "People's Bank, being the pioneer in SME lending since its inception in 1961, has assisted Micro and SMEs not only facilitating debt capital, but also inculcating savings habits, developing financial discipline, establishing good governance and improving managerial competencies of the targeted SMEs. The strategy of the Bank is to develop and maintain a very strong customer relationship through a dedicated branch network across the country. This endeavour is very well backed up by the dedicated Regional Credit Units established covering all administrative districts in the country. The role of the Regional Credit Unit is to identify, nurture and develop potential business customers whose contribution to the GDP is immense and essential. Despite the obvious risk in financing startups, bank has the passion for identifying and nurturing them almost similar to the role of incubators."

The advantages of getting into a relationship with People's Bank are many. Among them, availability of a comprehensive range of credit facilities, flexible terms and conditions, competitive or concessional rates of interests, structuring facilities on the need basis of customers, no hidden charges, latest state art of technology for banking transactions, very efficient foreign trade and trade finance facilities, having very a friendly relationship and many more.

The breadth of the loans reflects the ground which People's Bank has covered by ensuring each of the new loans addresses specific needs of small and medium businesses. The Jaya Isura Loan Scheme and the Small and Medium-Sized Enterprises Line of Credit Project (SMELoC) cater to investment and working capital requirements for small and medium scale enterprises. In order to promote sustainability, the E-Friends II – Revolving Fund Loan Scheme is aimed at helping expansion of the environment-friendly business in general loan and technical assistance form.

The Ran Aswenna Loan Scheme backs commercialisation in farming while the Govi Navoda Loan Scheme provides financial assistance for farmers and farmer cooperative to mechanise their activities. The Diri Saviya Loan Scheme is aimed at helping new self-employed poultry producers to purchase refrigerators. The Environment Friendly Green Loan is aimed at providing easy access to finance for the Micro and Small Enterprises and encourages producers of environment-friendly biodegradable products.

Meanwhile, Riya Shakthi provides financial assistance for van owners to upgrade from school vans to school buses with minimum capacity of 28 seats. Rivi Bala Savi was devised to provide financial assistance for households to purchase solar panels to change from electricity to solar power. Madya Aruna Scheme provides financial assistance for media personnel to purchase media equipment who work under difficult circumstances to disseminate news and to upgrade professionalism of media personnel in Sri Lanka. Sonduru Piyasa is for owners of houses with less than 1,000 sq. ft. and the Arabuma Credit Scheme is targeted at young graduates.