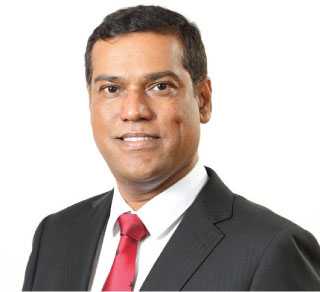 People's Bank CEO and GM Ranjith Kodituwakku
---
People's Bank has been crowned as the 'Best Digital Bank' in Sri Lanka at the prestigious Asiamoney Best Bank Awards 2020, emphasising the success of the bank's accelerated digitalisation drive to realise the vision to become the 'Most Digitalised Bank' by 2020.

Each issue of Asiamoney magazine contains in-depth reports and banking awards in up to six markets in Asia-Pacific. It attempts to identify which banks in each market have excelled across a range of core banking activities over the past 12 months. Issue One covered the best banks of Sri Lanka, India, Myanmar, Bangladesh, Pakistan and Uzbekistan.

The Asiamoney guidelines stipulated that the award for 'Best Digital Bank' will be "given to the bank that demonstrated more than just a public corporate commitment to digital services. They will need to show and explain initiatives that are already having an impact on their services to clients and also how they run their banking business."

The digital banking landscape in Sri Lanka has become increasingly competitive in recent years. With each passing year all banks have demonstrated advances in digital offerings to customers as well as their implementation of new technologies in-house.

Amidst such intense competition, People's Bank continues to stand out as an active player in the technology field. Being a State bank, it is very challenging to be at the forefront of innovation yet People's Bank has been successful in achieving this feat. The award win emphasises the fact that People's Bank's digitalisation drive is on the right track and has thereby paved the way for the bank to be picked as the winner in Sri Lanka.

Sharing his thoughts on the bank's latest award, People's Bank Chief Executive Officer/General Manager Ranjith Kodituwakku said: "People's Bank is proud to be recognised on the global stage for our commitment to innovation and IT, both of which have become key strengths in achieving our vision. Spearheading the digital drive in Sri Lanka's banking sector, we were the pioneers to launch Sri Lanka's first-ever Innovation Centre, to further strengthen our innovation drive and digital initiatives. We have accelerated our digitalisation drive to realise our vision to become the 'Most Digitalised Bank by 2020'. It is clear that today we are at the forefront of digital innovation in Sri Lanka's banking industry, bringing the benefits of digitalisation to the entire nation. This has invariably placed us on par with some of the leading financial institutions in the world which is another momentous achievement."

People's Bank's digitalisation drive has witnessed a number of ground-breaking digital initiatives being launched in the local market. The bank is the pioneer to launch Self-Banking Units (SBUs), a unique concept consisting of ATMs, Cash Deposit Machines (CDMs) and Kiosk machines enabling customers to bank at their convenience 24x7x365. 'People's Wave' is the revolutionary mobile banking app which has become the most downloaded finance app in Sri Lanka, gaining an impressive 4.3 rating on Google Play Store and over 570,000 downloads during the short period since its launch in 2018. This app has received international acclamation garnering several awards for its superlative features. 'People's Wiz' is the first-ever digital customer on-boarding application in South East Asia, Africa and the Middle Eastern region. Since its launch, over 500,000 customers have been onboarded digitally through People's Wiz.

'People's Wyn' is a specially-designed module for corporate clients, which is available as an internet banking portal and a mobile app. It provides great convenience, speed, flexibility and privacy for corporate clients to conduct their banking transactions.

'People's Web' internet banking portal is synced with the People's Wave mobile app. With enhanced features that deliver an exceptional customer experience, the portal is used by over 350,000 customers.