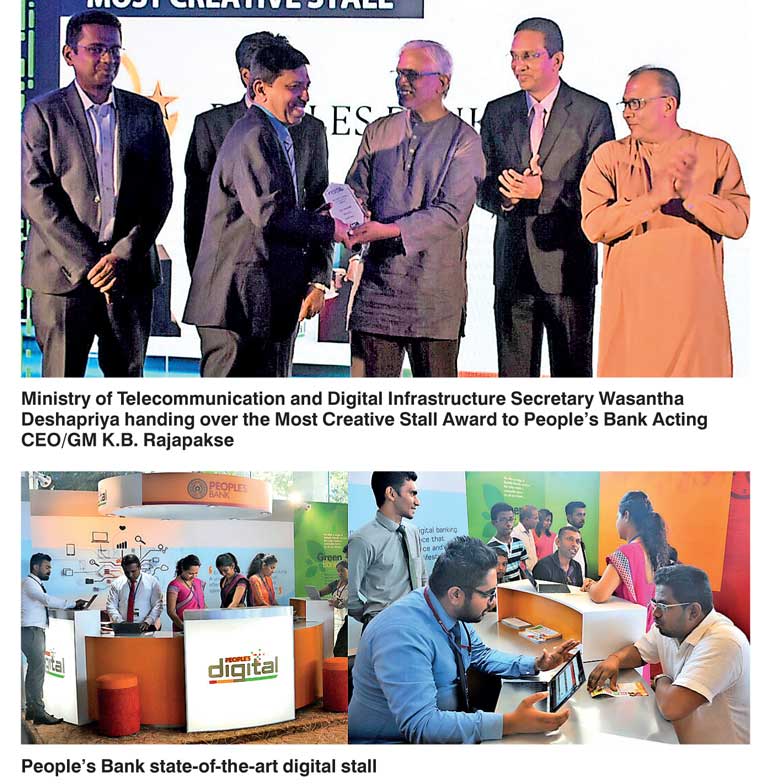 People's Bank state-of-the-art People's digital stall bagged the coveted 'Most Creative Stall Award' at the recently-concluded Infotel 2017 Exhibition and Forum organised by the Federation of Information Technology Industry Sri Lanka (FITIS), under the theme '25 Years and Beyond – Towards a Digital Economy'.

Accelerating its digitalisation drive, People's Bank proudly presented the public that flocked to view the exhibition its ultra-modern digital banking experience. Synergised as the Gold Partner of Infotel 2017, the bank was bestowed with the prestigious award at the Infotel Awards Night held last Saturday (4 November). People's Bank Acting CEO/GM K.B Rajapakse and Senior Deputy General Manager Rasitha Gunawrdana were present at the event.

People's Bank's digitised stall comprising a fully-fledged digital branch complete with a Self Banking Unit, offered opening of digital accounts, cash deposit and withdrawal facilities through Cash Deposit Machines (CDM) and Automatic Teller Machines (ATM) and instant bill payments through its state-of-the-art Bill Payment Machines (Kiosk) providing the endless comfort of seamless transactions to All valued customers.

Over 900 CXO/CIOs along with200 plus software buyers from UK, Europe, Japan, Australia, Malaysia, Thailand, Hong Kong, Vietnam, Bangladesh, India, Mongolia, Myanmar, Taiwan participated at the event, which was attended by countless policymakers, IT professionals, entrepreneurs, academics, school and university students and the Sri Lankan public.

Infotel is Sri Lanka's premier national ICT exposition and conference, organized and hosted by the Federation of IT Industry Sri Lanka (FITIS) and was held from 2 to 5 November. This year marked the 25th anniversary of FITIS and Infotel.

FITIS is the voice of the Sri Lanka's Information and Communication Technologies (ICT) industries, which is comprised of companies and IT professionals representing software, hardware, education and training, communication services and professional service segments of Sri Lankan ICT industries. Since its inception 56 years ago, People's Bank has supported customers across the country with practical and convenient financial products and services that meet their unique needs and uplift their lives. As at September, the bank served over 16 million customer account relationships, through 737 branches and is also connected to a network of over 4,000 ATMs, which are linked through the Lanka Pay gateway. People's Bank is working towards becoming the most successful bank in Sri Lanka through unparalleled digitisation of its services.