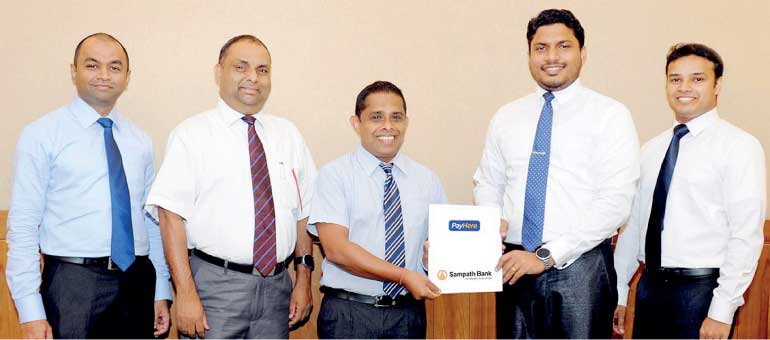 PayHere Founder/CEO Dhanika Perera (4th from left) and Sampath Bank AGM – IT Business Development Rajendra Ranasinghe exchange the partnership agreements while PayHere Co-Founder/CTO Chamika Weerasinghe (extreme right), Sampath Bank Chief Manager – Electronic Delivery Channels Dushyantha Dassnayake (2nd from left) and Sampath Bank Assistant Manager – Electronic Banking Unit Kamal Ekanayake look on
Sri Lanka's leading FinTech Payment Service Provider PayHere has joined hands with Sampath Bank to facilitate online payments in Sri Lanka by introducing a comprehensive online payment solution for the local e-Commerce industry.
PayHere solution allows local e-Commerce merchants to accept online payments via several payment options such as credit/debit cards, mobile wallets, and internet banking payments. The solution encompasses cutting-edge online payment options such as payment links, shopping cart plugins, and checkout APIs.
Prospective merchants can sign up easily with this solution without going through the hassle of dealing with many parties and integrating several payment mechanisms. PayHere's partnership with Sampath Bank ensures the bank-level security, regulatory compliance, and instant payouts for all online payments processed through PayHere are paid out directly to merchants' local bank accounts.
Established in 1987, Sampath Bank has become a state-of-the-art financial institution that continues to be a market leader today thanks to their constant innovation and customer focused approach to business. Its unique tailor-made solutions, superior services and convenience of access have allowed Sampath Bank to further differentiate itself from the competition, making it the bank of choice for many in Sri Lanka.
Commenting on the partnership, Sampath Bank AGM IT Business Development Rajendra Ranasinghe said: "We believe that FinTech companies can play a major role to boost the e-commerce industry in Sri Lanka. With the collaboration with PayHere, we intend to reach untapped markets to facilitate e-commerce activities by providing the knowhow and assistance and making them digitally enabled. We have always been pioneers in introducing innovative solutions and we firmly believe that this collaboration will directly help our country in its thrust towards becoming a digital economy."
PayHere Founder and CEO Dhanika Perera said: "We strongly believe that we can affect a significant growth with the power of digital innovations and strategic collaborations. We intend to boost online payment options in Sri Lanka by coming up with our own local FinTech solution, empowering Sri Lankan e-commerce Industry to grow into the next level, ultimately moving Sri Lanka towards a truly Digital Economy."
With this new partnership PayHere plans to fast-track their operations and provide payment solutions beginning December 2017.