Inflation slows down for a fifth consecutive month
By Wealth Trust Securities

The secondary market bond yields increased during the week ending 29 March 2018 driven by the outcome at the primary Treasury bond auctions, the first round of auctions conducted in line with the new Inland Revenue Act, which excludes the 10.00% With Holding Tax on Government Securities.

The weighted average yields of the 04.11 year maturity of 15.03.2023 and the 10.05 year maturity of 01.09.2028 recorded at 10.68% and 11.18% respectively against pre-auction rates of 10.10/25 and 10.35/50 respectively for the maturities of 01.09.23 and 01.09.28.

The weighted average yields at the auctions conducted on 26 February 2018 for the maturities of 01.03.2021 and 01.08.2025 stood at 9.85% and 10.34% respectively.

Furthermore the 364 day bill weighted average increased once again at its weekly Treasury bill auction following a decrease the previous week, recording an increase of 03 basis points to 9.69%. This intern saw yields increase across the yield curve reflecting a parallel shift upwards.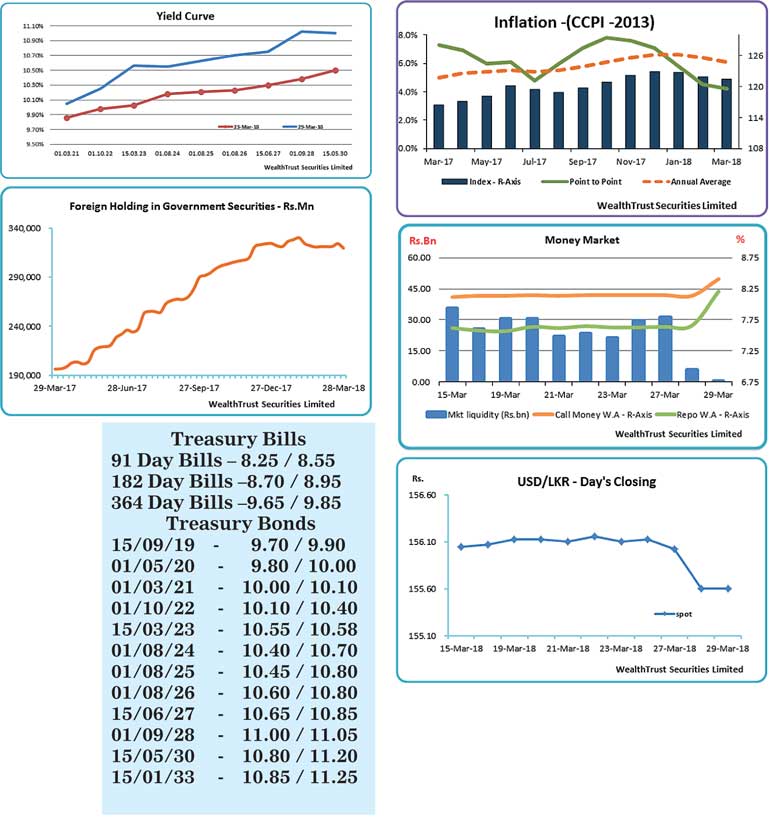 Nevertheless, renewed foreign and local buying interest at these levels saw yields decreasing once again to close the week marginally lower against its weekly highs.

Inflation or the Colombo Consumer Price Index (CCPI) for the month of March was seen decreasing further for a fifth consecutive month to 4.2% on its point to point against its previous month of 4.5% while its annualized average also decreased to 6.1% against 6.4%.

The foreign holding in Rupee bonds decreased once again to record an outflow of Rs. 4.5 billion for the week ending 28 March and the daily secondary market Treasury bond/bill transacted volumes for the first three days of the week averaged Rs. 11.08 billion.

In money markets, average net liquidity was seen decreasing to Rs. 16.89 billion during the week against its previous week's average of Rs. 25.68 billion as the OMO Department of the Central Bank of Sri Lanka was seen conducting an overnight Reverse Repo auction on Thursday against the overnight repo auctions it conducted during the early part of the week. The overnight call money and repo rates averaged 8.21% and 7.79% respectively, for the week.

Rupee appreciates

The rupee on spot contracts appreciated during the week to close the week at Rs. 155.55/65 against its previous weeks of Rs. 156.05/15 on the back of forward selling interest by banks and export conversions ahead of the festive season.

The daily USD/LKR average traded volume for the three days of the week stood at $ 106.54 million.

Some of the forward dollar rates that prevailed in the market were one month – 156.40/50; three months – 157.90/00 and six months – 160.30/35.