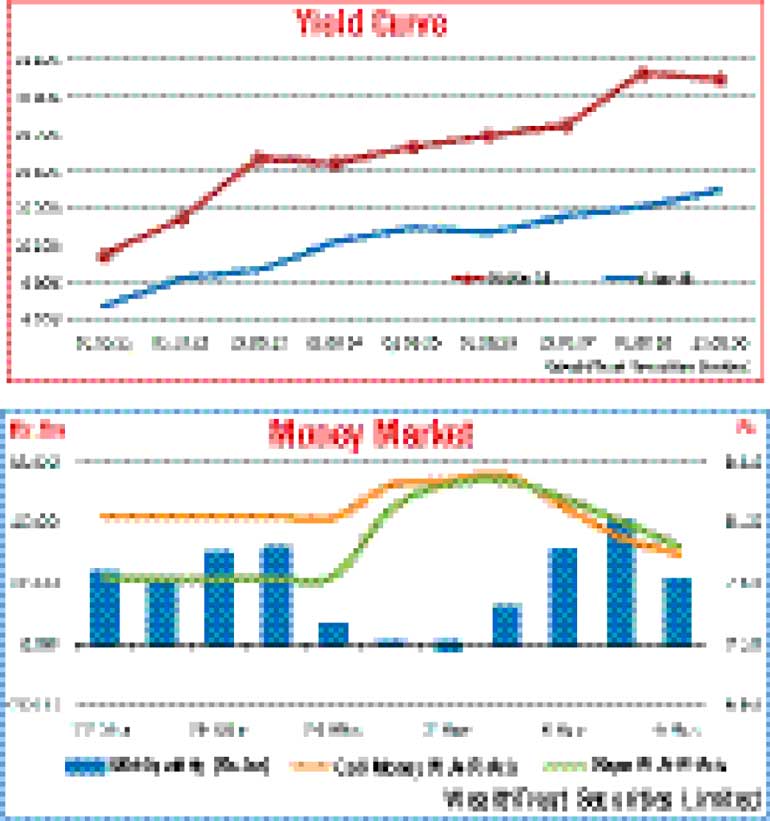 Bond market witnesses first policy rate cut since April 2015
Foreign outflow witnessed for second consecutive week
By Wealth Trust Securities

The secondary bond markets turned bullish during the week ending 6 April, with the announcement by the Central Bank of Sri Lanka that it had slashed its Standing Lending Facility Rate (SLFR) by 25 basis points. Accordingly, at its second monetary policy announcement for the year 2018, it was seen reducing its Standing Lending Facility Rate (SLFR) to 8.50%. The Standing Deposit Facility Rate (SDFR) remained steady at 7.25%, narrowing the corridor gap to 1.25% against 1.50%.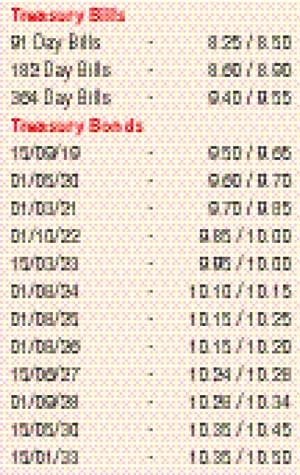 Activity in the secondary bond market increased considerably subsequent to the monetary policy announcement, as yields decreased due to substantial foreign and local buying interest returning back to the market, reversing an upward trend that was witnessed during the beginning of the week. Trades were mainly seen on the liquid maturities of 15.03.23, 01.08.26 and 01.09.28 from weekly highs of 10.75%, 10.82% and 11.17% respectively to lows of 9.95%, 10.15% and 10.25% reflecting a parallel shift downwards of the overall yield curve on a week on week basis. In addition, buying interest on the maturities of 01.03.21, 15.06.27 and 15.05.30 saw it change hands at lows of 9.75%, 10.25% and 10.42% respectively as well.

Furthermore, buying pressure on secondary market bills was evident during the week as the 364 day maturity was seen trading at lows of 9.47%. This was despite the weighted average yield on 364 day bill increasing by 22 basis points to 9.91%, at its weekly bills auction. The market also witnessed foreign selling of rupee bonds, with an outflow of Rs. 1.5 billion for the week ending 4 April.

The daily secondary market Treasury bond/bill transacted volumes for the first four days of the week averaged Rs. 11.64 billion.

In money markets, net liquidity fluctuated during the week from a surplus of Rs. 40.04 billion to a deficit of Rs. 2.14 billion. However, the upward pressure in money market rates were controlled during the week as the Open Market Operations (OMO) Department of the Central Bank of Sri Lanka infused liquidity by way of reverse repo auctions at weighted averages ranging from 7.99% to 8.60% for periods of 1 and 14 day. The overnight call money and repo rates averaged 8.20% and 8.24% respectively, for the week.

Rupee fluctuates

The rupee on spot contracts fluctuated during the week, within a high of Rs. 155.06 to a low of Rs. 156.15, before closing higher at Rs. 155.35/45 against its previous week closing levels of Rs. 155.55/65 on the back of inward remittances and export dollar conversions.

The daily USD/LKR average traded volume for the first four days of the week stood at $ 109.58 million.

Some of the forward dollar rates that prevailed in the market were 1 Month - 156.05/20; 3 Months - 157.55/65 and 6 Months - 159.80/95.