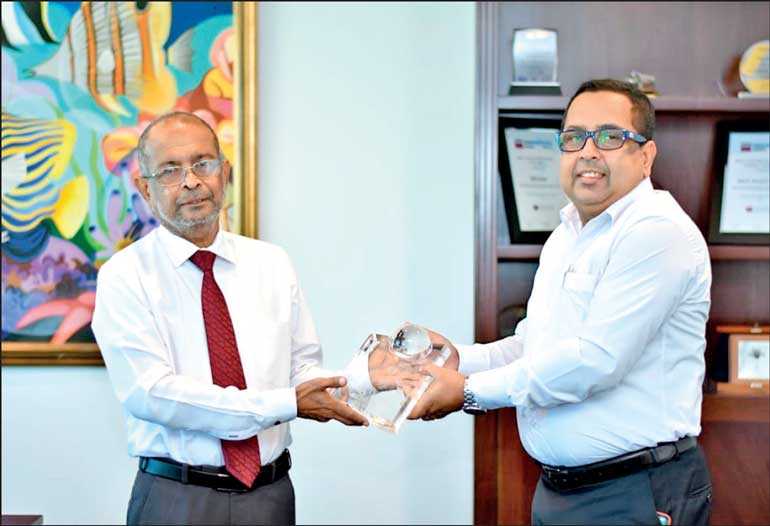 Pan Asia Bank Deputy General Manager – Treasury Richie Dias handing over the award to Pan Asia Bank MD and CEO Nimal Tillekeratne
---
The 'Truly Sri Lankan Bank,' Pan Asia Bank, was recently bestowed with the prestigious 'Best Bank for Treasury Activities Sri Lanka 2021-Treasury' award by the Global Banking & Finance Awards 2021. This accolade is a source of pride for Pan Asia Bank as it has won this award for the first time in its history.

This win also marks a moment of pride for Sri Lanka's entire banking industry as Pan Asia Bank is the first local bank to be recognised and rewarded for its superior treasury management skills, and was part of the 'Treasury & Cash Management Banking' category of the highly reputed Global Banking & Finance Awards.

Commenting on winning the notable award, Deputy General Manager – Treasury Richie Dias said, "Pan Asia Bank delivered a robust financial performance in the 2020 financial year amidst the economic disruption caused by the global pandemic. The bank's Treasury operations played a key role in sustaining key parameters to drive growth through the year. We believe our Treasury operations have been lauded because of the ability to harness opportunities where others see none, exploring non-traditional modes of income and lowering cost of funds through raising foreign funding lines. Over the last few years, the Treasury function has leveraged itself into niche, profitable and homogeneous market segments which have proved to be lucrative even in depressed market conditions. We are pleased and proud to receive this award as the first and The Truly Sri Lankan Bank to achieve this feat. "

The wealth of expertise in treasury operations reposed within Pan Asia Bank has successfully helped manage Treasury and related activities to ensure a strong balance sheet for the Bank. Pan Asia Bank gained the confidence of foreign funding institutions because of its green financing journey which has been recognised by the 'Global Climate Partnership Award' 2019 by The Global Climate Partnership Fund (GCPF); the bank's partnership with the Switzerland-based Symbiotics for its first green bond issuance for $ 7.75 million in 2020; and winning the ''Best Green Bank' accolade from the prestigious Global Banking and Finance Review Awards 2020 for demonstrating expertise and excellence within the global financial community.

Pan Asia Bank's Treasury team currently manages over $ 100 million in funding lines while negotiating more funding lines which are expected to materialise within a short period of time. The department has ushered in $ 125 million worth of investments in fixed deposits and government securities, namely treasury bills and bonds.

Adding further, Dias says, "Encouraged by this award, we will continue to drive our Treasury activities while looking for opportunities. We have the right skill sets in our team to respond to the rapid pace of technological change and we will remain focused on our strengths during the current challenging times while taking a holistic view in order to align with the bank's overall business strategies."

The award is a testament to the hard work put in by Pan Asia Bank which has resulted in a laser-sharp focus on driving business to the next level.