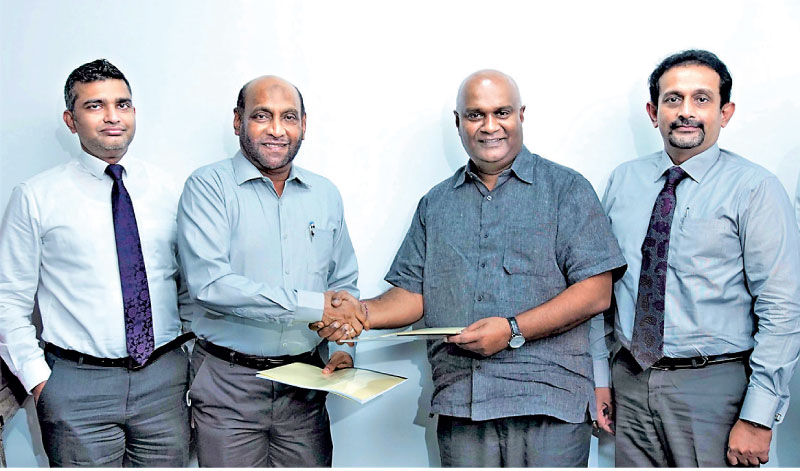 From left: Orient Finance Head of Channels Saminda Rathnayake, Director and Chief Executive Officer K.M.M. Jabir, Amana Takaful Life CEO Gehan Rajapakshe and Chief Sales Officer Suresh Basnayaka
---
Orient Finance PLC has launched a special fixed deposit scheme to offer customers a guaranteed return investment plan.

The special fixed deposit scheme, Orient FD Plus, will offer account holders between the ages of 18 and 69 a tailor-made one-year life insurance policy.

Account holders will be eligible for two insurance coverages: Basic Life Cover and Critical Illness Cover. They will need to invest a minimum of Rs. 250,000 for six months to be eligible for Orient FD Plus. Policy values will be decided based on the total value of the fixed deposit placed. Eligible account holders will also receive a specially designed co-branded insurance card.

Orient Finance Plc Director and Chief Executive Officer K.M.M. Jabir said: "As we look back at a tumultuous year, it is essential that we remain true to our customers and support them as the nation pursues a sustainable, resilient recovery after COVID-19. With this fixed deposit scheme, we are offering our customers a guaranteed return investment plan despite the high volatility of the market to protect them from experiencing losses in the current market scenario. Orient FD Plus is a one-of-a-kind fixed deposit scheme with a guaranteed life insurance policy. We are excited to introduce this special fixed deposit scheme, in addition to providing a plethora of financial conveniences and reliefs to customers in this hour of need."

Orient Finance offers an array of tailored financial services which includes mobilisation of Deposits, Savings Accounts, Leasing, Hire Purchase, Pledge Loans, Factoring, Margin Trading, Pawning, Working Capital and Corporate Financing. The company's target base varies from high end corporates to budding entrepreneurs with a regular and stable income.