Capital Market Conference 2018 Chairman and Calamandar Capital Singapore Director Mafaz Ishaq claims no political leadership participation portends lack of concern for capital market development
Transformation in financial, economic landscape entails potential risks, but also provide opportunities for enhanced efficiency, growth in capital markets and larger economy
Stresses capital markets depend on integration, technology and trust
By Charumini de Silva

One of Sri Lanka's main capital market conference organisers bemoaned the lack of political will for capital market development, which is considered one of the key components in the country's vibrant economy.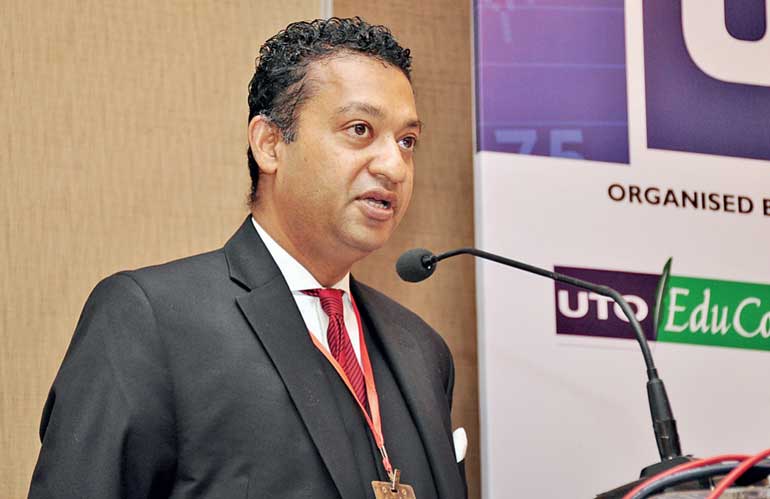 Singapore Calamander Capital Director Mafaz Ishaq – Pic by Lasantha Kumara
"It is sad to note that there is no participation by any of the political leadership. I understand that there is an important debate at the Parliament today. However, I believe this to be one of the key capital markets conferences during the year," Capital Market Conference 2018 Chairman and Calamandar Capital Singapore Director Mafaz Ishaq told at the outset of the 6th consecutive forum in Colombo last week.

He pointed out that the lack of participation of any of the political leadership portended their lack of concern for capital market which was a key component of a vibrant economy.

"It is no accident that robust capital markets are a defining feature of every advanced economy. I believe those of us assembled here today understand this better than anyone else," he added.

Ishaq commended most of the corporate sponsors for their continuous support throughout the past six yearsin making the event a success and creating value to industry stakeholders.

In a year that witnessed several significant events that could have a profound impact on the capital markets, he said 2017 was surely one of 'transformation' years. The Inland Revenue Act, the Foreign Exchange Act as well as the SEC Act were indeed the most significant changes to regulations that have elicited intense discussion at many a forum.

"Use of crypto-currencies, most notably Bitcoin, has witnessed unprecedented interest, whilst discussions revolving round the use of blockchain technology, fintech and digital disruption have also featured very prominently," he added.

He also said the past year had seen a spate of acquisitions, especially among some of the more prominent listed entities. "The mergers and acquisitions activity has straddled many sectors and have not been limited to any specific industries. There was also a flurry of private equity deals, which may suggest a renewed interest in what was a somewhat nascent sector."

Ishaq acknowledged that this transformation in the financial and economic landscape entailed certain potential risks, but it would provide many opportunities for enhanced efficiency and growth in the capital markets and the larger economy.

However, he stressed on the fact that no amount of technology could ever substitute for trust.

"Markets only work when participants believe they are fair and transparent. In this regard, the quality of corporate governance in our region must be raised, so that Sri Lankan companies are able to grow into corporations with continental and global reach. Capital markets depend on integration, technology, and trust. They are part of the infrastructure of optimism, upon which Sri Lanka's prosperity rests," he stated.

In addition to four panel discussions, the conference also had a breakout session which was by invitation only on 'Public Utility on Blockchain' hosted by FORUS Global Digital Exchange.