Softlogic Holdings Plc Head of Investments Niloo Jayatilake made an impressive presentation on the recent progress of the Sri Lankan capital market and attractive opportunities for investors at the recently concluded Invest Sri Lanka Forum in Singapore, organised by the Colombo Stock Exchange in partnership with several other organisations.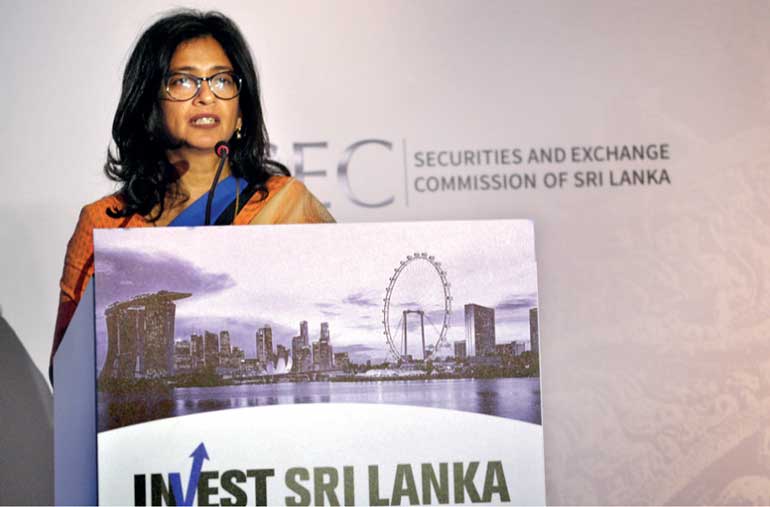 Softlogic Holdings Head of Investments Niloo Jayatilake


She said the CSE has provided above average returns over the long term of 17.4% CAGR during the past nine years. The CSE All Share Price Index has significantly outperformed the benchmark indices, such as the MSCI Frontier Markets and MSCI Emerging Markets, in the long run. It was 10.3% over 10 years annualised as against a negative 5% by MSCI Frontier Markets Index and 0.4% by MSCI Emerging Markets Index.

Colombo also has a low correlation of 0.16 to 0.29 with major indices such as Straits Times Index of Singapore, Hang Seng Index of Hong Kong, Dow Jones Index and FTSE 100 Index.

Colombo is also very attractive in the region with a 10.7 times Price to Earnings Ratio and strong corporate earnings of 18.5% (projected). "The relatively low PE ratios in key sectors indicate further upside and opportunities," she added.

The room for further improvement was also present given the CSE's market capitalisation to GDP ratio of 23.6%. Comparatively, Hong Kong market capitalisation is 1,317% of GDP, Singapore's 264%, Malaysia's 147%, Thailand's 129%, India's 99%, the Philippines' 92%, Vietnam's 55% and Indonesia's 52%. She said in 2017 the market saw $ 116 million in net foreign inflow.