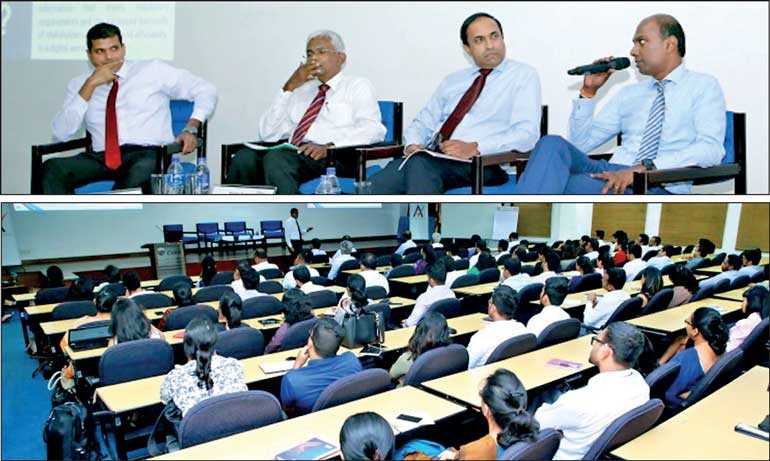 ---
Digital transformation, the talk of the town, will be the game changer for innovative organisations. Shareholders and other stakeholders are shifting focus towards business status quo than ever before. Smart companies see annual reporting as a focal communication tool that enhances the communication experience as it serves the tangential interest to shareholders and other readers.
Annual report: Now a source of meaningful collateral to communicate with and measure contributions and impact
Sustainability reporting and ESG disclosures are gaining popularity amongst reporting practitioners
Application of emerging technology: Lanka is yet to realise its true potential
Regulators must facilitate adaptation of mixed communication channels
Addressing the recently-held forum on 'What is Next in Annual Reporting' organised by Acclivity, Moore Stephens Consulting Ltd. Managing Director, Sanasa General Insurance Co. Chairman and South Asia Federation of Accountants (SAFA) ITAG Committee Chairman Tishan Subasinghe presented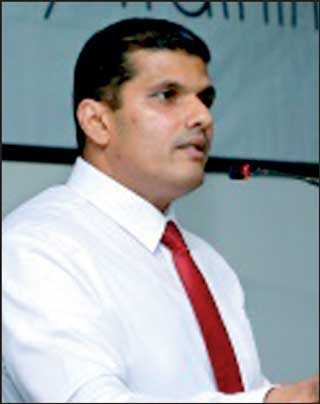 international and local trends on how companies are moving away from traditional annual reporting to producing more homogeneous reports with many elements often blended into a similar structure or pattern, across companies, countries and industries.

As an effect of this trend and other factors, we witness 'continuous improvement' in the drive for better reporting. Subasinghe stated that the result of homogeneity is what is produced i.e. standardised, repetitive and undifferentiated corporate reporting which sets a great foundation for comparability and predictability for e.g. data analytics.

The downside of the picture is lessening originality in various reporting attributes. However, the key focus is to serve as a resilient approach to help capitalise on business platforms to create sustained growth, to depict robust results and surface sustainable value for shareholders.

As businesses cross borders widening their horizons, another trendsetter in annual reporting is the approach to 'talk global and work local'. It showcases the need to appeal to a wider and a plethora of diverse audience than in the past.

Looking at both responsibility (which includes sustainability, CSR, and ESG reports) as well as fiscal annual reports, globally there is empirical evidence indicating partiality towards responsibility reporting.

In '2018 Trends in Corporate Reports,' Strategic Brand Communications reported that '140 of the Fortune 200 produced formal annual or bi-annual responsibility reports,' somewhat of an increase from 136 in 2016.

Responsibility reporting supports the co-existence of organisations in communities in which they operate. It also benefits to appraise organisation reputation as responsible corporate citizens which can have a decisive impact on bottom-line financial performance.

As in Europe and the US, Sustainability reporting and, Environment, Social and Governance (ESG) disclosures are gaining popularity amongst reporting practitioners who strive to serve the existing and potential investors with producing informative collateral for their decision-making.

Subasinghe mentioned that we are seeing a trend of producing user-friendly, comparable reports on the most important sustainability topics and companies meaningfully quantify and report on impact, including the SDGs, exhibiting both the impact of the company on sustainability and the impact of sustainability on the performance and direction of the company.

As competition, innovation and technological disruption are perceived as key drivers for organisations to stay relevant in today's business context, 'trust' is the determinant of its very existence. Annual reports therefore can be an irreplaceable tool in burnishing a company's public image.

Today, organisations use more storytelling, print to digital form of presentation, long scrolling websites, snack contents, visual immersion, data visualisation and infographics and algorithm-based presentation to form a critical communication tool in an increasingly stakeholder-driven world. Subasinghe explained how digitisation trends have and can benefit organisations to go beyond integrated annual reporting to serve the tangential interest of stockholders and other readers.

Citing '2018 Trends in Corporate Reports' by Strategic Brand Communications, he stated 51% of the Fortune 200 created only PDF version of the reports and 49% created only online versions; 48% of reports included video and 22% created a digital component beyond PDF. Despite the inclination within the international arena towards the green annual report concept, Sri Lanka is yet to embrace the concept comprehensively. The focus on digital presentation with attractive elements such as videos and use of HTML format as a high searchable and linking tool has already come to existence in many developed markets.

The use of extensible Business Reporting Language (XBRL) for reporting requirement has also been regulated in over 70 countries via more than 100 different regulators either by means of mandation or on a voluntary basis by 2017, an avenue Sri Lanka is yet to comprehend.

The session concluded with a panel discussion moderated by Chartered Accountant and Independent Consultant Harsha Gunasena together with speaker panellists Colombo Stock Exchange Chief Executive Officer Rajeeva Bandaranaike and Softlogic Life Insurance PLC Chief Financial Officer Nuwan Withanage.

In discussion, Bandaranaike expressed that Sri Lanka must meet with global trends of annual reporting that sets a redirection to values and financial data that go beyond conventional reporting standards. Regulators must establish broader collaborations facilitating for listed companies to be able to follow one code of corporate governance, he said.

The Securities Exchange Commission (SEC) together with the Institute of Chartered Accountants of Sri Lanka issued a code for Corporate Governance in 2013 and later in 2017 revised to include some trending best practices.

Controversially, in 2016 SEC mandated listed companies to follow the previous version issued in 2013. Later both institutions joined forces to revamp the code, then made it 'Not mandatory to follow'! Yes, there are some organisations going beyond the mandates and the recommendations, thus the need for regulators to facilitate one uniform direction in this endeavour.

Withanage emphasised that annual reports should emphasise equally on their business model elaborating input, value creation process and output and, reporting on the achievements of previous year with a forward-looking mindset. These are information worth a king's ransom for investors because naturally businesses face short term ups and downs.

Increased focus on climate change related disclosures has already began to influence companies to transform traditional annual reporting. More meaningful collateral is now being produced to communicate and measure the company's and investor's contributions and impacts. The key is futuristic and focused on grounds of creating shared value.

The application of emerging technologies can help businesses to illustrate more meaningful disclosures which could create impact on the Triple Bottom Line. Technologies such as AI and digital reporting are gaining increasing popularity around the world and with realisation of its potential, soon, locally as well.

Sri Lanka must address the need for automated investment analysis to facilitate effective investor relations. It must produce integrated reports as a result of integrated thinking. For this, regulators should set the platform to facilitate adaptation of mixed communication channels through digitisation and XBRL reporting.

Meanwhile, companies must realise the length and size of annual reports aren't the game changer. It will be all about relevant information reaching the identified stakeholders in timely manner. Reporting online could value-add but not meet the needs of all, thus it is vital to optimise the channels to report based on the business case may be.

Regulators must consider collaborations to produce uniformity and one direction for companies since there are different guidelines issued by different regulators resulting in repetition and confusion sometimes. The system also must consider adopting greater consensus in annual reporting to help keep apt with global trends and most of all stakeholder expectations for a fair review of the company standing.