NDB Investment Bank (NDBIB) has acted as financial advisor to the recent divestiture of a controlling stake in Unipower Ltd. (UPL) to CIC Holdings PLC (CIC).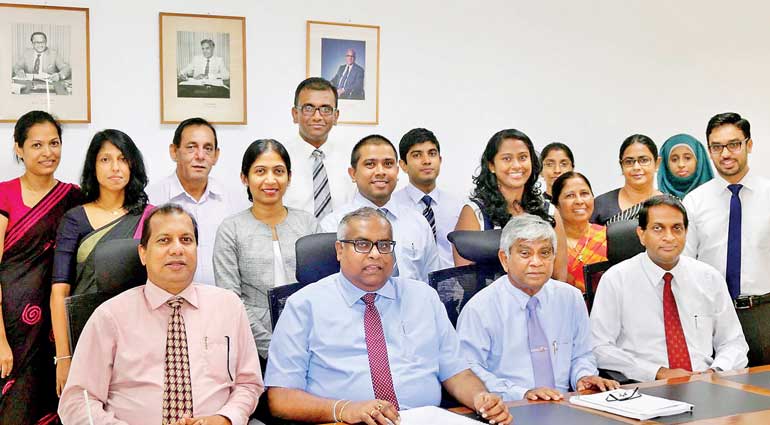 CIC acquired a 70% stake of UPL, the pioneer and leader in specialty agricultural fertilisers in Sri Lanka, thus complementing CIC's vast portfolio of products and services in the agri business sector.The transaction brought globally renowned brands in specialty agri inputs such as Yara, Everris, Grow More and Ginegarunder the CIC umbrella whilst strengthening UPL to spearhead a new phase of growth supported by the strong distribution strengths of CIC.

Commenting on the transaction, NDBIB Chief Executive Officer Darshan Perera said: "We at NDBIB are honoured to have supported Unipower's transition from a trailblazing family owned company to the strong growth platform provided by CIC. This transaction demonstrates how family owned companies could partner with larger institutions and utilise their strengths to achieve a higher growth trajectory on mutually beneficial terms."

UPL was established in 1988 by Jayantha Rajapakse who has pioneered the introduction of specialty agricultural inputsto Sri Lanka. Jayantha has been a visionary in encouraging the Sri Lankan agricultural sector to diversify away from traditional commodity fertiliser and focus on specialty fertilisers. Jayantha is expected to play an active role in UPL in the future by taking his vision to greater heights with the backing of CIC's strategic investment and distribution strengths.

UPL Founder Jayantha Rajapakse, who will also continue to function as UPL's Executive Chairman, commented, stating: "As the pioneers of introducing modern agri technology with specialty fertilisers to Sri Lanka, we have gained a wealth of expertise and acquired partnerships with world renowned specialty agri input suppliers in the past 30 years. Completion of this transaction with CIC marks a significant milestone for Unipower as we are better able to extend our reach for higher growth potential. CIC, having invested in similar futuristic agricultural projects symbolise the synergies in our vision for Sri Lankan agriculture. We are delighted to say that the success of this transaction is mainly due to the key role NDBIB played from inception. Their service embodied professionalism of advisory and execution with high level of integrity and reliability."

Specialty fertilisers offered by UPL help farmers increase crop yields, improve product quality and reduce the environmental impact of agricultural practices. Properties such as higher water solubility, better soil absorption, and slow release of nutrients lead to higher levels of productivity and improved returns on investment. The recent ban on glyphosate and negative publicity on the environmental impact of agrochemicals are expected to drive demand for high quality specialty fertilisers and boost UPL's vision of diversifying away from relying solely on traditional commoditised fertiliser.

NDBIB Vice President and Head – Corporate Advisory Nilendra Weerasinghe said: "The Unipower transaction was special for two reasons. Firstly, the shareholders weren't looking for just an exit; they were looking for a growth platform. So, strategic fit was very important. Secondly, it was likely to be a trade sale; managing confidentiality was paramount. We are confident we delivered on both counts."

NDBIB executed the transaction in a three-staged process carefully screening potential partners for strategic fit with the founder's vision for UPL and its business operations. Ensuring confidentiality throughout the process was very important especially given the need to manage concerns of a trade sale whilst also providing adequate information to enable satisfactory due diligence.

Given its strong relationships with globally renowned principals, distributors and unrivalled access to farmers' island-wide, CIC was identified as the preferred partner by UPL in terms of strategic fit. UPL is expected to fully utilise CIC's strengths across all verticals in agri business to catalyse the use of specialty fertilisers in Sri Lanka and usher a new wave of growth in the company's history.

The transaction indicates the level of heightened M&A activity in the country and the pivotal role played by NDBIB as the leading and preferred advisor for M&A transactions. The Unipower transaction comes on the back of Dialog Axiata's acquisition of Colombo Trust Finance marking the second successful M&A carried out by NDBIB within a space of just over a month. 2017 has been an eventful year for NDBIB across all business verticals, particularly raising over Rs. 7 b via equity IPOs.

NDBIB also continued its unique brand of innovation having introduced cornerstone tranches to IPOs in Sri Lanka and being the only investment bank to have executed an IPO on foreign markets. NDBIB expects to conclude few more M&A transactions during the year whilst looking forward to executing a healthy pipeline of transactions across all capital market products in the coming year.