NDB Bank celebrates its 40th year anniversary, marking four decades of unparalleled commitment and innovation, growing from roots of development within the Bank to developing individuals, families, businesses and the society.

Established in 1979 as the National Development Bank of Sri Lanka, NDB's inaugurating purpose was of promoting industrial, agricultural, commercial and other developments of the economy of Sri Lanka. Since then, the Bank has been a catalyst in the development of the nation, strengthening and empowering a host of entrepreneurships, individuals and corporates who have prospered and flourished with the Bank's relationship.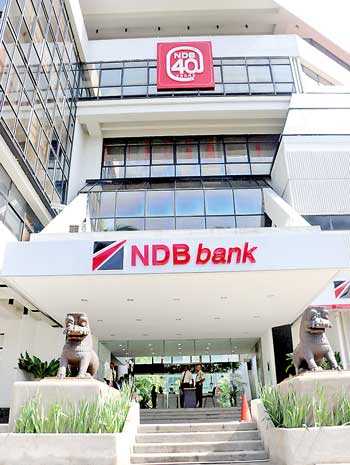 During its journey, NDB made considerable strides in the Sri Lankan banking and finance sector. Originally being a Development Financing Institution (DFI), the Bank has challenged, flexed and evolved itself to become a fully-fledged commercial bank today, keeping abreast with the developing market and competitive stances. The Bank acquired the operations of ABN Amro NV Colombo Branch in 2001, which was a commercial banking entity operating in Sri Lanka. NDB attained commercial banking status in 2005 when it fully merged with the commercial banking entity. Since this transformation, the Bank has expanded its customer reach, product portfolio and service offerings to a wider spectrum and elevated itself to be one of the most recognised banking institutions in the country.

The Bank possesses four decades of experience in serving our nation with premier banking and financial solutions. The transformation to a commercial bank has naturally skewed its presence and engagement in to retail and SME banking initiatives. NDB still continues its strong project financing offering too, perfected over the decades with exposures in multiple segments such infrastructure development and power and energy generation.

May it be retail banking, SME financing, commercial or project lending which are commonplace products offered by other competitors as well, what distinguished NDB's offerings from them is the 'developmental orientation' embedded in NDB's offering. This has resulted in a unique proposition of 'development oriented commercial banking' for NDB, a fusion of its past and the present, which ensures sustained banking solutions to our customers. NDB's product offerings also extend to capital and investment banking products, delivered by the Bank's subsidiary entities. NDB's presence is also established in Bangladesh via its overseas investment banking arm, NDB Capital Limited, Bangladesh.

Furthermore, within the short span of 10 plus years since converting in to a commercial bank, NDB has rapidly increased its presence up to 111 branches, with around 50% of the additions taking place within the last five years. NDB's presence is seen in the reviving, upcoming and needy economic localities within the county. NDB connects with the lives of the people and empowers them to thrive, whilst energising the nation as a whole.

Four decades later, NDB operates around the island with a significant digital footprint and a network of over 150 ATM/CRMs and Bank2U (Branchless Banking) offerings made available at over 70 locations where Bank representatives will meet the customer for the customer's convenience and ease. The Bank has fully embraced the digital future with 70% of its transactions now occurring via digital channels.

Meanwhile, the Bank has empowered its customers by offering a host of digital tools such as mobile and online banking in addition to the Bank's first Phygital Branch: NEOS which made NDB the first Bank in Sri Lanka to introduce to fully paperless banking branch.

NDB Bank, which is the first and to date the only corporate in Sri Lanka to officially be certified with EDGE Certification is a premier retail Bank with over 111 branches across the island, serving millions of Sri Lankans through a host of financial services.

From its inception, the NDB Group which includes NDB Bank, NDB Capital, NDB Investment Banking, NDB Wealth, and NDB Securities has been a catalyst in the development of the nation, strengthening and empowering entrepreneurs, corporates and individuals from all strata of the economy. Customers across all group companies have benefited from the product and service offerings of the NDB Group.