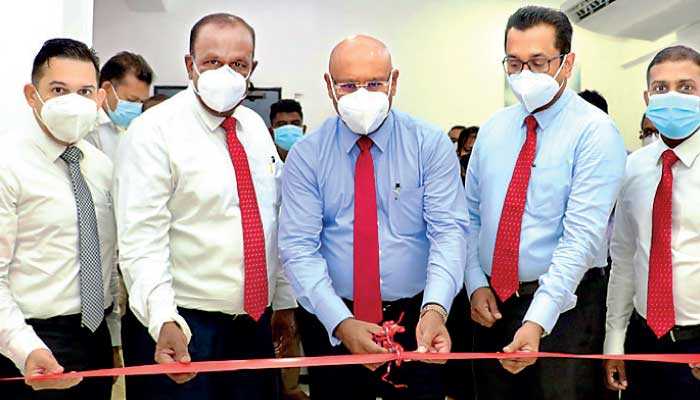 Regional Manager Sydney Downall, Assistant Vice President Operations, Trade Finance, Payments and Settlements Rivindu Nanayakkara, NDB Director/Group CEO Dimantha Seneviratne, Vice President, SME, Middle Markets and Business Banking Indika Ranaweera and Old Moor Street Branch Manager Aravinthan Arasaratnam
---
NDB Bank recently opened a Trade Finance Desk in Old Moor Street in order to provide services for importers and exporters who are aggressively venturing out across borders.

The bank's large network of correspondents in different countries, allows its customers' businesses to be recognised internationally with cutting-edge technology, commitment and decades of superior experience in handling high-value transactions.

Through this Trade Desk, the bank will enhance customer value and assist in speedy settlements of international commercial transactions while providing safety for the involved parties, together with a full range of trade services, delivered by an efficient and experienced staff.

In addition to establishing/advising letters of credit, processing collection bills and issuing shipping guarantees and bank guarantees, the NDB Trade Finance Desk also delivers fast, efficient, reliable and comprehensive solutions for every stage of a client's trade value chain to support all their foreign trade activities.

NDB Bank, named the 'Bank of the Year Sri Lanka 2020' by the Banker Magazine UK, is the fourth largest listed bank in Sri Lanka and the parent company of the NDB Group. The only financial services conglomerate in Sri Lanka, NDB Group is uniquely positioned towards assisting the growth and development of the Sri Lankan capital market to provide its customers seamless access to the product and service offerings of all its group companies.