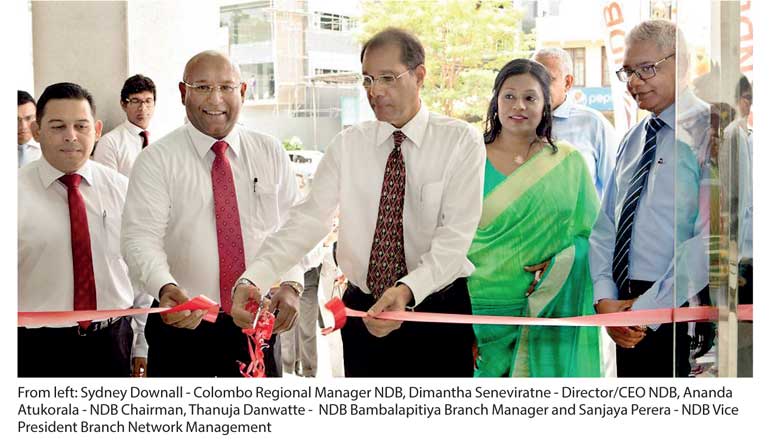 NDB has opened its 107th branch titled 'NDB Private Wealth Centre Branch' in the heart of Bambalapitiya.

With the introduction of the 'Wealth House Concept' for the first time in Sri Lanka, all of NDB's group services are synergised under one roof. With NDB being the largest financial conglomerate in the country, the new branch will have expertise in portfolio management of the NDB Group's services in investment banking through NDB Investment Bank, wealth management through NDB Wealth Management and stock brokering through NDB Securities.

With the opening of the NDB Private Wealth Centre Branch, the bank is now geared to offer all those in and around Bambalapitiya a comprehensive range of retail and personalised banking services that will meet diverse financial needs with greater convenience and flexibility.

Apart from the personalised banking requirements offered, the branch will also offer a host of products and services including retail banking services such as savings accounts, current accounts, children's savings accounts, fixed deposits, foreign currency accounts, specialised SME banking services, Western Union money transfer services as well as the bank's latest products NDB Savings Planner and NDB Araliya Women's Savings Account coupled with the convenience of internet banking, mobile banking and a call centre which operates during all 24 hours of the day.

Over the last two years NDB has aggressively increased its footprint by opening branches throughout the island. Through this business expansion NDB makes continuous efforts to grow its network sustainably and strategically. In doing so NDB reaches areas within the country that need superior financial advice and services to empower and enrich the lives of citizens across the country.

NDB has made continuous efforts to increase touch points in the form of branches, cash deposit machines and offsite ATMs as well as through the digital space by launching internet banking, mobile banking and e-statements, etc.

The NDB Private Wealth Center Branch is located at No. 135, Rainbow Business Center Bauddhaloka Mawatha Colombo 4 and will be open from Monday to Friday from 9.00 a.m. to 6.00 p.m.

NDB remains dedicated to bringing its customers one step closer to accomplishing their lifelong ambitions through the range of services that are accessible through its growing branch network. Further details on NDB's many products and services can be obtained from its 24-hour call centre by dialling 011 2 448 888 or by visiting NDB's website www.ndbbank.com.