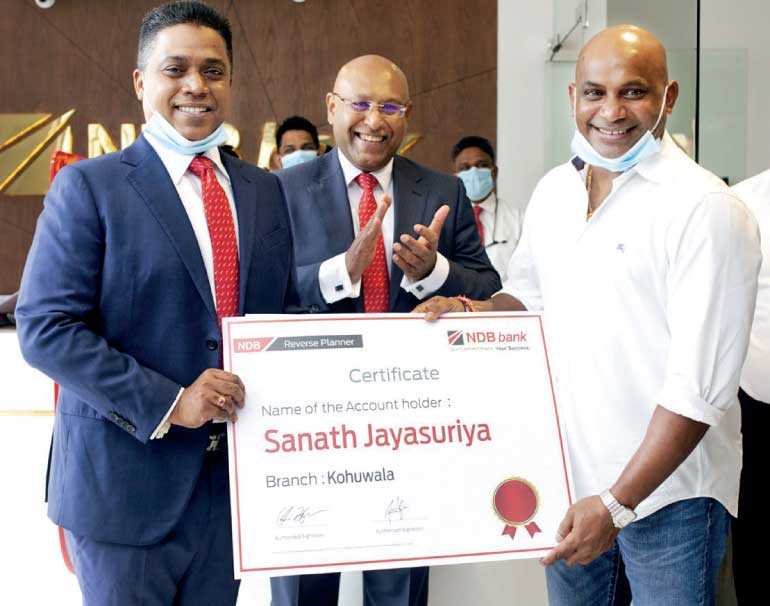 NDB Chairman Eshana De Silva and NDB Group CEO Dimantha Seneviratne presenting the Reverse Planner Account Certificate to Former National Cricket Captain Sanath Jayasuriya
---
NDB recently launched the bank's latest revolutionary product 'Reverse Planner' created as a means to allow customers a convenient way in which they can take care of their monthly recurring expenses or a way in which they can receive a monthly instalment in order to manage their expenses prudently.

This facility will allow the customer to deposit a lump sum amount to the proposed account and automatically receive a pre-identified amount on a periodic basis, throughout a given tenor.

The very first deposit of the NDB Reverse Planner was made by Sri Lanka's one and only Master Blaster Sanath Jayasuriya at the Kohuwala Branch relocation ceremony.

The NDB Reverse Planner was introduced so that customers may receive an identified amount from their savings automatically without manually monitoring and withdrawing on a given periodic basis.

During the lockdown period due to COVID-19, many individuals saw an increase in their expenses even after their income decreased due to various reasons such as pay cuts. NDB realising this need, introduced the Reverse Planner so that customers have the ability to receive a monthly agreed amount without having to worry about finances. This will give them the confidence and peace of mind on receipt of the pre-determined amount without worrying about the methods in which they might need to find the required money.

The Bank's range of financial services and specialised products are tailored to assist in the re-opening of our country's economy and to make life as easy as possible for the customers.

The Bank, which is the 4th largest listed commercial bank in Sri Lanka, is one of the fastest growing banks, having had a cumulative average growth rate (CAGR) in advances by 21% and in deposits by 25% in the last four years. From its inception, NDB Bank, along with the NDB Group has been a catalyst in the development of the nation, strengthening and empowering entrepreneurs, corporates and individuals from all strata of the economy.