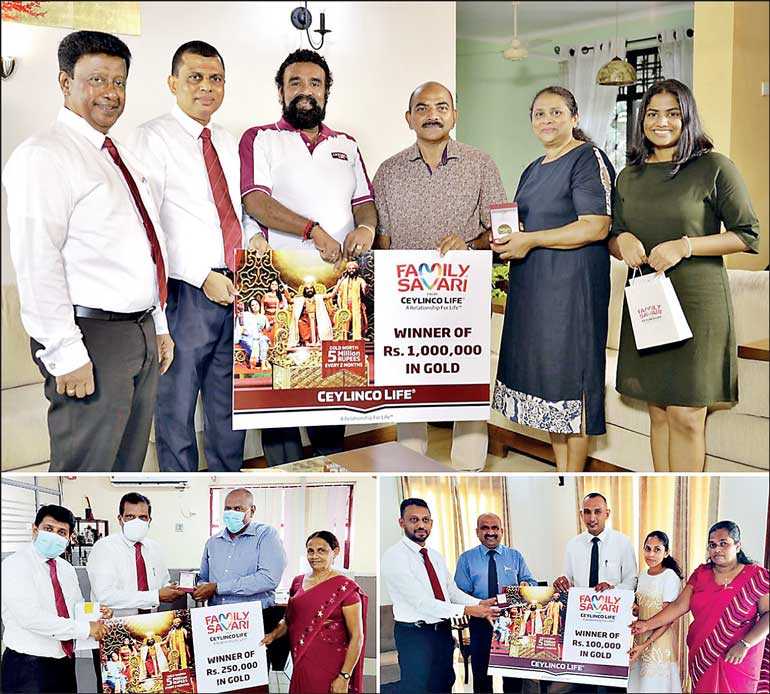 The latest winner of Rs. 1 m in gold (above) and winners of Rs. 250,000 and Rs. 100,000 in gold (below)
---
Fortune smiled in 22-carat radiance on another 103 Ceylinco Life policyholders recently when the life insurance leader presented gold to the value of Rs. 5 million to the third batch of winners under the 14th edition of its 'Family Savari' mega promotion.

The latest jackpot winner of Rs. 1 million in gold was from Matara, while residents of Moratuwa and Piliyandala took home gold to the value of Rs. 250,000 each and five residents of Baddegama, Bandarawela, Batticaloa, Kotahena, and Wellawatte won gold to the value of Rs. 100,000 each. Another 25 policyholders were each presented gold to the equivalent of Rs. 50,000 and 70 others received gold to the equivalent of Rs. 25,000 each.

Three more draws are to be conducted this year, culminating in a total of 618 Ceylinco Life policyholders winning Rs. 30 million in gold. The decision to present policyholders with gold instead of the customary overseas holidays and local excursions of the 'Family Savari' promotion was on account of the travel restrictions and safety precautions necessitated by the COVID-19 pandemic.