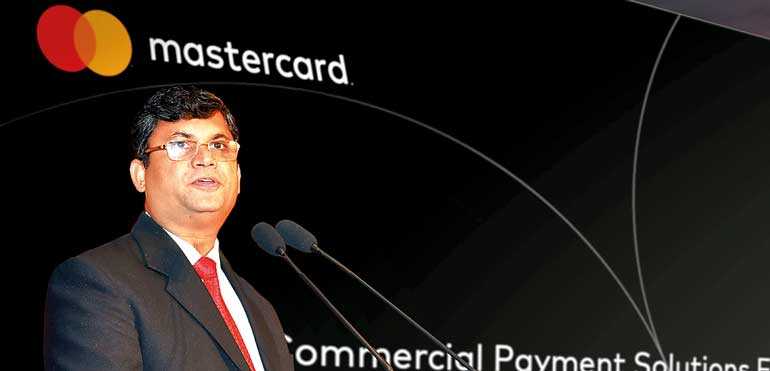 Mastercard Sri Lanka and Maldives Country Manager R. B. Santosh Kumar addressing the gathering
---
Mastercard, a forerunner in transforming digital transactions across the world, recently hosted a Commercial Payment Solutions Forum for its key stakeholders, bringing to light breakthrough technology anticipated to change the way Sri Lankans conduct business via seamless connectivity and priceless experiences.

With a host of banking partners, fintechs, strategic merchants, and corporates involved in manufacturing and distribution in attendance, the event highlighted the infinite opportunities presented by Mastercard's groundbreaking initiatives which would serve to foster corporate growth and create connections on an international level.

To facilitate the success of emerging Small and Medium Enterprises (SMEs) – an area that displays significant growth potential in Sri Lanka, Mastercard has pledged to level the playing field to enable both local and international competitiveness by offering the same technology and solutions available in other markets. Highlighting the importance of this segment in Sri Lanka's growth trajectory, Mastercard displayed its ability to connect businesses and organisations around the world through cashless transactions and simplified solutions.

During the event, Mastercard also stressed on emerging regional trends in the commercial payments space, including the move towards cashless transactions and the changing dynamics in transactions related to corporate travel and entertainment.

In light of these new developments, the Forum featured a discussion on the functionality of the Mastercard Smart Data Suite set to streamline corporate travel experiences. This data suite delivers global, web-based reporting to help seamlessly organise, consolidate, analyse and manage rich financial data associated with domestic and international corporate travel.

The Mastercard Smart Data Suite also enables smart decision-making and analytics, delivering business intelligence quickly, efficiently and with ease. Available in 21 languages across 130 countries, with over 650,000 corporates adopting it through over 200 global issuers, Smart Data can be customised to provide templates, advanced filtering options and standardised reports. Additionally, organisations will be able to create their own custom reports, schedule them to run at set times and export them seamlessly.

This simplified solution from Mastercard will enable companies to understand underlying behaviour concerning their travel-related expenses. While the Mastercard Smart Data tool can be used for both reporting and analysis, the Suite provides the additional feature of importing these details into any enterprise resource planning system or expense reporting tool for further evaluation. This revolutionary tool will provide the right information for smarter decisions and purchasing, enhancing data gathering and assisting corporates in understanding and anticipating payment patterns to make viable financial decisions.

With Sri Lanka operating as a strategically important market in the global arena, Mastercard's Commercial Payment Solutions Forum served as a platform to create awareness on innovative tools that would undoubtedly simplify digital transactions, enable limitless growth and strengthen partnerships across borders – creating a plethora of global opportunities for Sri Lankan corporates to explore.