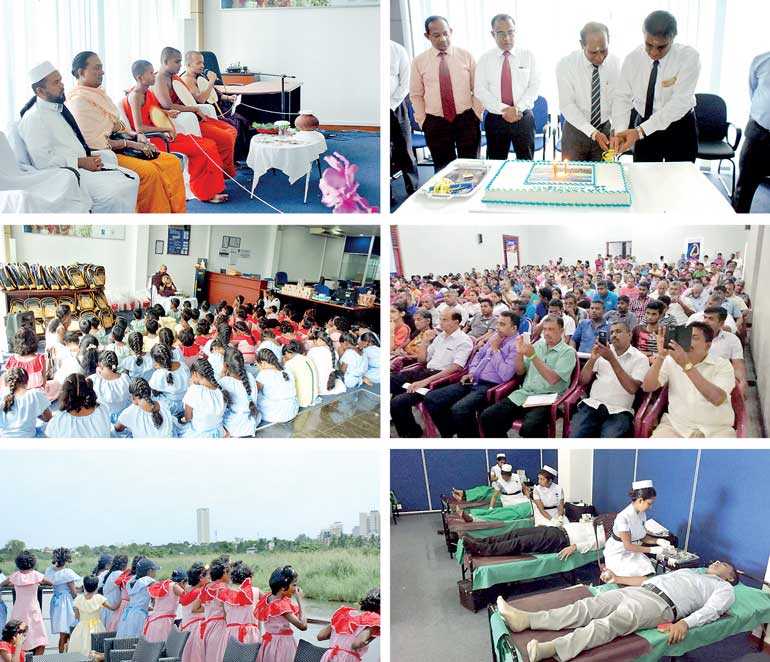 Lankaputhra Development Bank marked its prestigious 12th year recently. The commemoration ceremony was held at the bank's Colombo headquarters premises giving foremost place to all religious activities.

Chairman Sujith Kariyawasam and officials of senior management including acting General Manager/CEO Ranjith Dissanayake and Working Director of the bank Thuan Riza Hameet participated in this ceremony. In line with this occasion, ceremonies had also been organised in regional branches of the bank.

The significant feature of the commemoration ceremony was giving priority to CSR. Accordingly a special program was organised for the girls living in the Gangodawila Balika Niwasaya. They were taken for a tour in the wetland park in Nugegoda, including a special boat ride. It was significant that the girls highly enjoyed at this function. Skills of the girls were appreciated and school equipment and pairs of shoes were presented to them at this occasion. They were also provided vouchers to purchase clothes.

In line with the 12th commemoration ceremony a special series of seminars titled 'Vivasayaka Athweala' were organised for entrepreneurs who are engaged in self-employment in Kandy area. Over 1,000 such entrepreneurs from Wattegama, Mahaiyawa and Kandy took part in these seminars.

In addition, a blood donation campaign was also conducted at the LDB Head Office, in which a large number of blood donors contributed.

LDB has opened and is maintaining branches in Colombo, Hambantota, Polonnaruwa, Kandy, Kegalle, Wennappuwa, Batticaloa and Trincomalee areas at present. These branches render a unique service to Small and Medium-scale Entrepreneurs (SMEs) in these areas.

LDB offers attractive interest rates for the savings and especially higher interest rates are paid for the fixed deposits of senior citizens. In addition leasing facilities, pawning service, 'Sandaliya' savings account for women and the 'Shasthri' loan scheme for individuals in the higher education sector are some special services carried out by the LDB at present.

The 'Shasthri' loan scheme provides concessionary loans for persons to follow degree courses, postgraduate degrees in local and foreign universities and vocational education in reputed higher education institutes in Sri Lanka as well as overseas.

In addition, LDB is implementing loan schemes namely 'Run Aswenna,' 'Rivi Bala Savi,' 'Jaya Isura' and 'Govi Navodaya' green loan which have been introduced by the Ministry of Finance. Under these loan schemes entrepreneurs of the agriculture, animal husbandry, dairy farming, fishing industry, construction and engineering services, hotel and tourism sectors are able to obtain loans at lower interest rates.