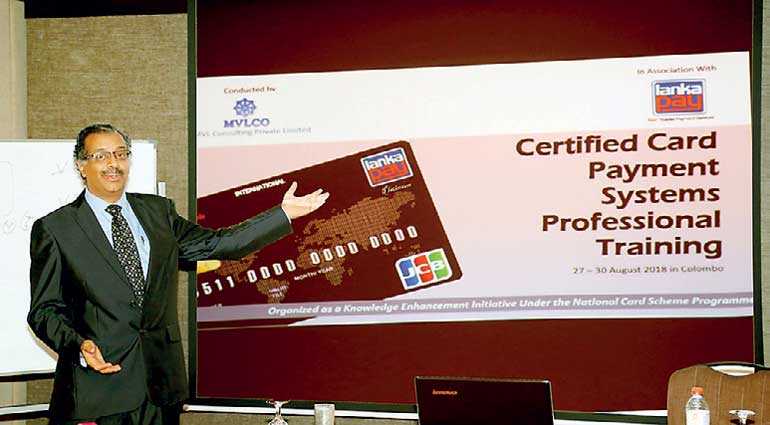 LankaClear, the operator of LankaPay – Sri Lanka's National Payment Network, recently conducted a four-day 'Certified Card Payment Systems Professional' training in Colombo as a knowledge enhancement initiative under their National Card Scheme (NCS) program.

LankaClear, since the announcement of its strategic partnership with JCB International last year to launch NCS in Sri Lanka, has been working with the financial sector stakeholders including the Central Bank, banks and financial institutions to introduce a competitive alternative to the current international card schemes operated in the country. Popularising LankaPay/JCB co-branded cards in the market intends to bring down the cost of card transactions to the banks and financial institutions, thus, pass on the cost benefit to customers. This initiative to increase card payments in the country is another step forward in the direction of moving the country towards a less-cash society.

Enhancing the knowledge base of payment card industry professionals is a critical success factor for any National Card Scheme program to be successful. This exclusive training programme saw the participation of 20 key professionals who are engaged in card operations in their respective banks/financial institutions. The four-day comprehensive training program, held at Mandarina Colombo, covered ISO8583 and ASN.1/BER messaging, EMV and PCI-DSS standards, how chip based payment cards are issued, how magstripe, chip contact and contactless card transactions are processed, key management, interbank settlements and merchant settlements. The program also covered card related fraud scenarios citing examples from the world over and the participants were introduced to popular fraud management applications in the payment card industry as well.

The training was conducted by MVL Consulting – one of the pioneering specialised payment card industry training consultancy companies. Founded in 1996 by Makaran Lonkar, MVL Consulting Ltd. is a leading consulting and education provider for BFSI sector in India. Their regular clients include organisations such as National Payment Corporation of India (NPCI), State Bank of India, ICICI Bank, ING Vysya, CitiBank India, Bank of Uganda and FinTech companies such as FIS, FiServ, CapGemini and Tieto Corporation, etc.