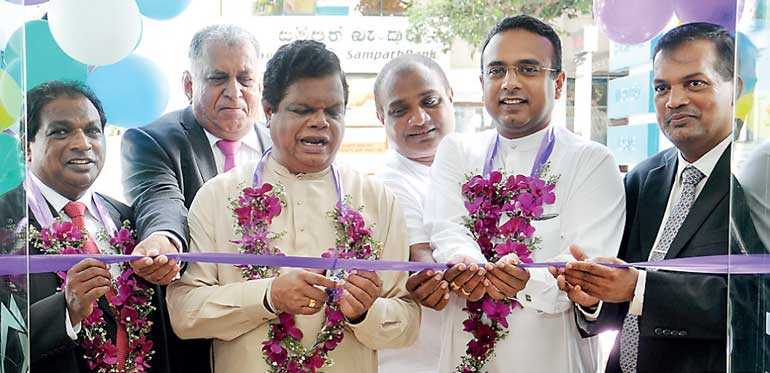 Chief Guest MP Bandula Gunawardana ceremoniously open the LCB Finance Kohuwala new branch while (from left) LCB Finance Chairman Senior Professor W. M. Abeyrathne Bandara, LCB Finance Board of director Bandula Weerasinghe Nanayakkara, Western Provincial Councilor Niroshan Padukka, Telecommunication, Digital Infrastructure and Foreign Employment Deputy Minister Manusha Nanayakkara and LCB Finance CEO K. G. Leelananda look on
After acquisition of the troubled City Finance and offering a great relief for the depositors of the same, LCB Finance the first finance company from the southern region opened their head office and corporate branch in Kohuwala recently.
Representatives of major political parties, representatives of finance companies, board of directors, depositors, invitees and well-wishers gathered for this historic occasion. Bandula Gunawardana declared open the office and addressing the gathering, LCB Finance CEO Gamage Leelananda made a brief history of their tired and courageous journey towards achieving goal of success. He made special thanks to everyone who supported them and openly invited the general public to enjoy their facilities of Business, Personal, Micro and Property loans, Factoring and leasing at competitive rates.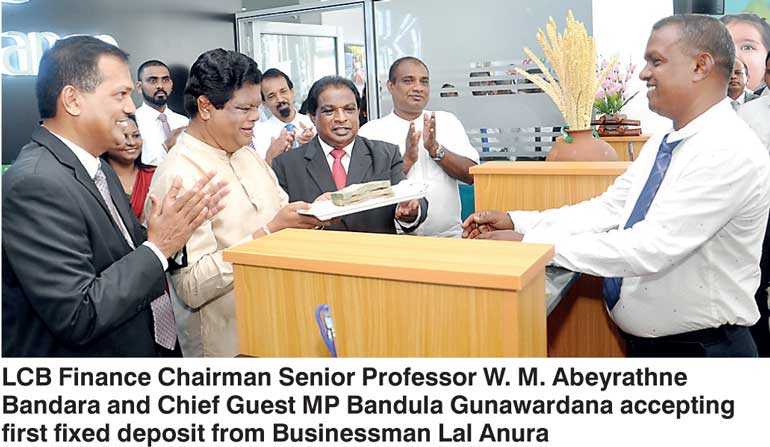 Industrial Finance Ltd. (IFL) was incorporated on 3 March 1962. In the early 2000s the company was owned by a well-known company in the construction field. It functioned well as a small scale finance company up to 2006. In 2006 and 2007 the company had problems in lending portfolio, partly due to some imprudent lending. Due to constraints in increasing core – capital requirements to the levels as expected by the Central Bank of Sri Lanka, then owners sold the company to another investor in 2008.
Thereafter, many investors came and infused the money to revive this company. As their infusion of funds were not adequate to meet the requirement, reviving of the company become a Herculean task, especially as they failed to pay the dues of existing depositors. As the company was not performing well, the CBSL was searching for the new investor with prudent record who would be able to revive this company. Accordingly, they called for the investors with prudent records to submit their reviving plans. In 2018
After discussions and negotiations with Central Bank of Sri Lanka, Lanka Credit and Business Ltd. (LCBL) a leading lending institution in down South of Sri Lanka, acquired City Finance Corporation. With the acquisition by LCBL, City Finance Corporation Ltd. became the first Southern based finance company, catering to the retail and middle markets through financial products of leasing, hire purchase, mortgaged loans, pawning, micro finance, acceptance of foreign current deposits, etc.
At present the LCBL operates its head office in Galle city and the branches at Karandeniya, Mirissa and Pelawatta in down south of Sri Lanka. The LCBL expects to expand its branch network in the areas of Negombo, Kurunegala, Anuradhapura, Kohuwala and Rathgama in the near future. LCBL has big plans for development and Expansion of City Finance Corporation Ltd. They have already agreed with Central Bank of Sri Lanka to make further investment, in addition to the first capital infusion of Rs. 565 million. Rs. 400 million before 30.06.2018; a further Rs. 400 million before 31.03.2019; a further Rs. 300 million before 31.03.2020; and a further Rs. 200 million before 31.03.2021.
The new board of directors consists of well educated professionals and reputed and qualified businessmen in the Down South. The Board of Directors are as follows: Weerakoon Mudiyanselage Abeyrathne Bandara – Chairman Kandegoda Gamage Leelananda –CEO/GM/Executive Director, Ranjan Lal Masakorala, Ukwatta Kankanamge Harith Ruwan Ranasinghe, Kapila Indika Weerasinghe, Jagathraja Weerasinghe Nanayakkara, Sathyananda Wijesekara Subasinghe, and Ahalape Gamage Mahin Priyantha Vijitha Lokunarangoda. 
According to the CBSL instructions they called all depositors of the CFCL for the meeting at the Auditorium of Public Library, Colombo on 23 May. More than 750 people attended that meeting and the company was able to gather most of the required details of the depositors as the company expect to refund the portion of the deposits starting from 31 May.
As agreed the company released the first batch of the payments on 30 May.
Pix by Ruwan Walpola