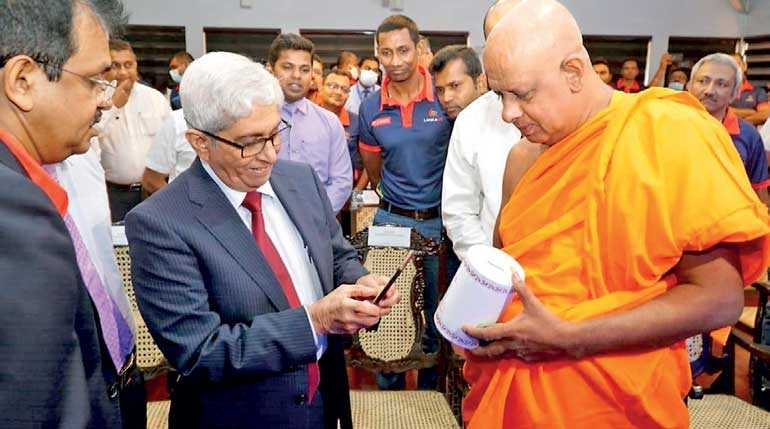 Central Bank Governor Deshamanya Prof. W.D. Lakshman making the first LANKAQR based digital donation using the LB CIM App in the presence of Dambulla Sasanarakshaka Balamandala Chairman Rangiri Dambulla Rajamaha Viharaya Uyanwatta Purana Vihara Chief Incumbent Ven. Halmillawewa Premaratana Thero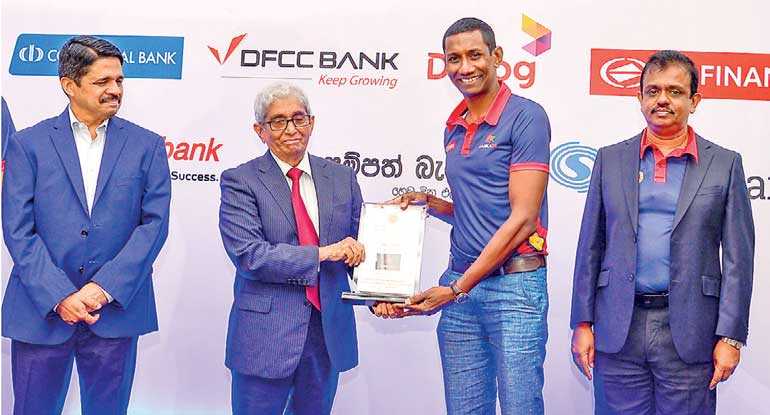 From left: CBSL Asst. Governor R. A. A. Jayalath, CBSL Governor Deshamanya Prof. W D Lakshman, LB Finance Head of Digital Financial Services Bimal Perera and CBSL Director Payments and Settlements D. Kumaratunge
---
LB Finance (LBF), the country's leading Non-Banking Financial Institution, joined hands with the Central Bank of Sri Lanka (CBSL) to strengthen the 'Ratapuraama LANKAQR' public awareness campaign to promote digital payments using the national QR standard LankaQR.

The official campaign kicked off from Matale, titled 'Mataleta LANKAQR' on 12 September at the CBSL Regional Office, Matale.

The Chief Guest of this inaugural ceremony was Central Bank Governor Deshamanya Prof. W.D. Lakshman. Matale event saw the participation of many leading banks and financial institutions which have developed LankaQR enabled Apps to collectively support the CBSL's vision of making Sri Lanka a 'less-cash' society through higher usage of digital payments.

The primary objective of this public awareness campaign was to encourage the usage of LANKAQR QR code-based digital payments due to its numerous benefits to the public, economy and to the customers in general. LANKAQR is a common Quick Response (QR) code standard adopted by financial institutions in Sri Lanka to facilitate fast, secure and low cost digital payments to any merchant, especially micro, small and medium enterprises.

The highlight of the event was the digital donation made by CBSL Governor Prof. Lakshman as the first official LANKAQR transaction of the 'Ratapuraama LANKAQR' initiative to the Uyanwatta Rajamaha Viharaya, Dambulla.

The digital donation was made possible through the LB Finance's popular mobile wallet LB CIM (Cash-In-Mobile) in the presence of the Chairman of the Dambulla Sasanarakshaka Balamandala, Rangiri Dambulla Rajamaha Viharaya Uyanwatta Purana Vihara Chief Incumbent Ven. Halmillawewa Premaratana Thero, who incidentally is also a registered LB CIM user. LB Finance takes great pride in revolutionising the payment landscape of the country by making simple everyday transactions secure, inclusive and convenient through the CIM App.

LB CIM smart phone application is available for Android and iOS based devices. It comes in the form of two separate mobile apps; 'CIM Customer App' and 'CIM Business App', to cater to the specific needs of customers and retail merchants. LB CIM is proud to be one of the few trilingual mobile wallets available in the market and champions the concept of simplicity in its UI/UX offering. The company believes CIM's ultra-simple design gives it an advantage to become a truly inclusive digital payment solution to Sri Lankan masses.

Earlier this year the Central Bank of Sri Lanka named the year 2020 as the 'Year of Digital Transactions' and launched a promotional campaign named 'Cash Wade' with the aim of popularising the digital payments among the masses. The launch marked the official beginning of the retail level campaign aiming to draw as many customers to use digital payment methods such as mobile wallets, LankaQR code and Just-Pay network.