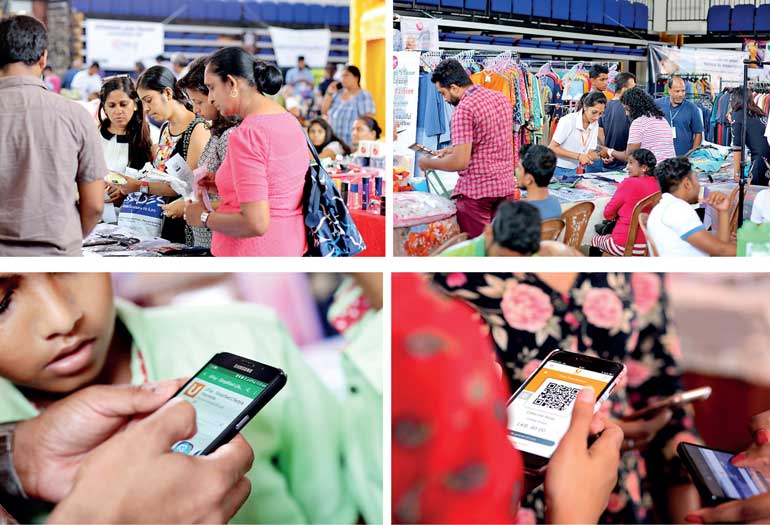 JustPay, a ground breaking initiative of LankaPay to convert the large number of cash based retail payments, went into full swing at the MAS Arena, Royal College on 4 March.

UPay, the very first JustPay powered smart phone app to go live, conducted a historic cashless sale in partnership with Cargills Bank, for the very first time in Sri Lanka, with the participation of more than 75 smalltime merchants and a large number of enthusiastic smart phone users.

This was a gigantic step forward in moving Sri Lanka towards a less cash society as the norm for such an event was to use cash as the payment mode especially when smalltime merchants are involved. Since a majority of the merchants in the country are small timers where the number of daily transactions at each outlet are low in value and limited in number, many thought it would not be practical at all to move them away from cash.

The primary obstacle to reduce cash transactions was the commission (Merchant Discount Rate or MDR) charged by banks from merchants for use of credit/debit cards, which was hovering around 2-3% of the transaction value. Considering the low profit margin for such small merchants from each sale was around 5%, parting a significant portion from their profit has always been a challenge.

LankaPay understood this roadblock from the onset and removed this barrier by lowering the MDR for JustPay, so that the merchants would not have any objections to parting with a smaller commission in return for increased sales. To facilitate same, all member banks of LankaPay real-time payment system have agreed to reduce the electronic fund transfer fees to a nominal value to facilitate retail payments via JustPay.

The massive opportunity created by this major shift in the current payment eco system has encouraged innovative FinTech players, such as UPay, to come forward with solutions that provides ultimate consumer experience. The need of finding merchants, making transactions in real-time and rating the merchants based on the user experience would be addressed by the innovative apps that uses JustPay payment mode.

UPay provided an ultimate convenience and a consumer experience to their customers at this cashless sale, by providing a smart phone app that a user could simply scan a QR code of a merchant and JustPay at checkout.

Most consumers who attended the cashless sale at the MAS arena was pleasantly surprised by the seamless mechanism UPay provided them to make a payment. These are the types of innovations that JustPay intends to bring to the market by providing a level playing field for such innovators to compete on the merits of their innovation. The ultimate winners of this journey are the general public by enjoying ultimate convenience and the country as a whole when the usage of cash would gradually reduce over time.

So, how did JustPay facilitate the innovative app UPay to provide ultimate convenience to their customers at the first cashless sale? Previously, the merchant and the customer had to maintain bank accounts at the same bank, if they were to carry out a transaction via a fund transfer, which did not scale. However, LankaPay common real-time switch makes it possible to transfer funds without having to maintain accounts at a common bank. This was an absolute game changer.

A customer can simply register with the acquiring bank of UPay via the app by providing his bank details. Once this simple onetime registration is completed, he/she can simply pay through the app with one click or single button for every purchase by selecting the JustPay payment option. In real time, the system would debit the customer's account regardless of his bank and credit UPay's merchant account at the acquiring bank.

The same principle that provided ultimate user experience to UPay customers would be applicable not only at the just concluded cashless sale, but also at a hardware shop, corner grocery shop, pharmacy or even a vegetable vendor at the Sunday fair. The applicability of this principle would be widespread and only be limited by the extent of the imagination of such innovative FinTech companies.

In order to further simplify the payment process and improve customer experience, LankaPay is in the process of implementing a centralised system where the account holder's bank would be responsible to issue a nickname to each of their authorised bank accounts.

Once this system goes live, a customer would merely need his mobile number or NIC and the nickname of the bank account he/she wishes to use to register with a payment app via their smart mobile phone and the centralised system would translate this information into carrying out the registration. Once registered, a user would only need to know the other party's mobile number or NIC and the nickname to make a real-time payment. This centralised system will be available within a few weeks and will further simplify the process.

LankaPay is also in the process of introducing a standardised QR code for the merchants end with the concurrence of Central Bank. All a merchant would require in the future is just a QR code sticker pasted at his shop to accept a payment and a low cost mobile device to receive a SMS to indicate that his account has received the payment. This is going to make it absolutely convenient for customers to make payments and would revolutionise the entire payment landscape in the country.

The advantage of this system is that it would provide ultimate convenience to busy individuals. The day would not be longer where a customer would be able to order dinner after work from a small boutique food outlet and get the food delivered via a delivery service such as Quickee or Grasshoppers by the time he goes home without having to physically visit the shop.

The consumers would not mind paying a small convenience fee for making their lives easier, which would save them a lot of time and the hassle. Such opportunities would lead to further innovation, as apps can be created to coordinate between small retail shops and independent delivery services so that even a smalltime food outlet would be able to deliver food to homes without having its own delivery channel.

When you make the systems so simple to use, it will enable customers to pay a small-scale grocery shop, corner laundry outlet or even easily make a payment to a domestic worker. The customer ratings for merchants via the same apps would take care of the quality of the food and the delivery service levels offered.

This is bound to bring more innovative FinTech players into the forefront to solve common problems of the General Public via technology and harness the massive opportunity presented to them. Already a few innovative apps have gone live on JustPay, such as UPay, IPay and DirectPay while Genie, FriMe and PickMe are planning to go live within the next few weeks.

Customers of BoC, Sampath, Cargills and NTB are already using the apps that are currently live while Commercial bank and HNB would soon ensure that these apps can be used by their customers as well. Thus, the dawn of JustPay would propel our brilliant tech savvy entrepreneurs to think out-of-the-box and create more innovative apps to address the daily needs of all citizens.