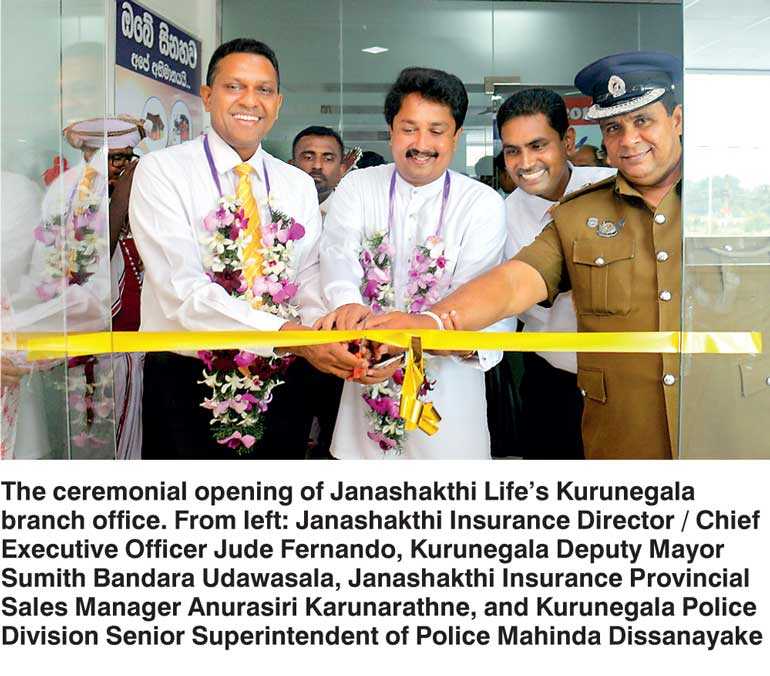 Continuing to forge ahead with the expansion of its dedicated Life branch network, Janashakthi Insurance PLC unveiled 8 new Janashakthi Life branch offices in the towns of Ambalangoda, Anuradhapura, Galle, Kalutara, Kurunegala, Padukka, Panadura, and Thambuththegama over the past month.

As the first phase in an eventual island wide roll out of state-of-the-art, dedicated Life Insurance branches, the new branches will mirror the facilities and capabilities of the Company's recently opened model branch in Nugegoda. This expansion is part of Janashakthi Life's efforts to take its innovative Life Insurance solutions closer to the customer, in line with Janashakthi's long term strategic plans which include transitioning the Company towards becoming a purpose driven entity.

Janashakthi Life, which celebrated its 24th year anniversary on 15 September, believes that these branches symbolise the next step in its journey to becoming one of Sri Lanka's leading Life Insurers. The Company remains committed to providing its loyal customers with easier access to the most innovative Life Insurance products, thereby ensuring that the shadow of financial hardship does not loom over them if fate should intervene in the life of a loved one. This expansion of its dedicated Life branch network is seen as an effort to spread this sense of security across the island.

Janashakthi's first model branch in Nugegoda opened its doors in July at No. 19, Railway Avenue, Nugegoda. The company anticipates the completion of the entire branch network by November 2018 as a crucial step in spreading the strength and light of the Janashakthi Life brand to all corners of the nation.

Janashakthi Insurance PLC, founded in 1994 as a Life Insurance company, made its mark in the industry as an innovator and household name over a span of over 23 years. Janashakthi has a strong presence across the island, with an expanding Life Insurance network and a dedicated call centre. In line with its purpose of uplifting lives and empowering dreams, Janashakthi remains committed to becoming a leader in the Life Insurance industry by delivering a service beyond Insurance to its customers and stakeholders.