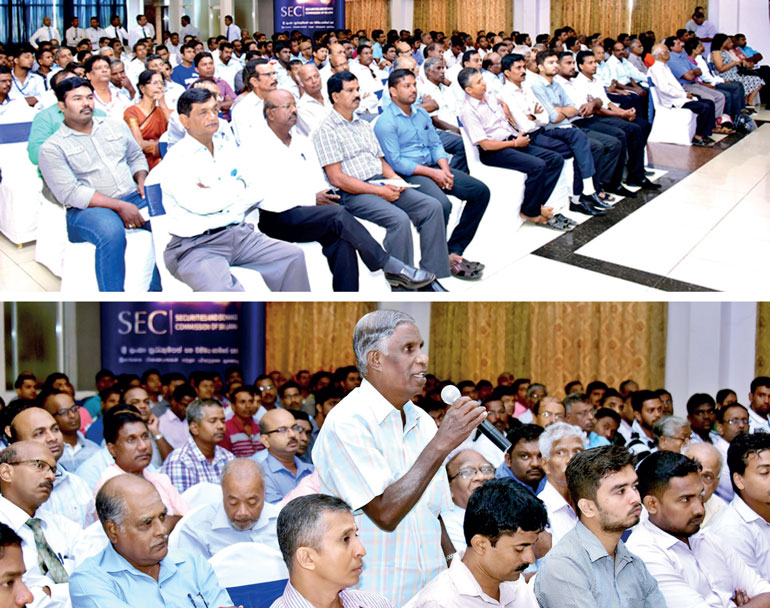 The Securities and Exchange Commission of Sri Lanka (SEC) and the Colombo Stock Exchange (CSE) conducted the third seminar of their 'Investor Forum' series in Jaffna on 26 August at Tilko Jaffna City Hotel. The Forum generated an overwhelming response with the participation of over 250 existing/potential investors, professionals and the business community.

The forum featured presentations from Dr. M. Ganeshamoorthy, Senior Lecturer Department of Economics, University of Colombo and R. Raguram, Research Analyst NDB Securities (Pvt) Ltd. The presentations were on Macro-Economic Overview and Market Opportunities.

Subsequently, a panel comprising Tushara Jayaratne, Director, External Relations and Surveillance SEC, M. Thileepan, Manager – Jaffna Branch CSE and the speakers responded to the questions posed by the audience.

In addition, stock brokers and unit trust management companies provided potential investors with valuable investment advice.

The SEC and the CSE conducted the first 'Investor Forum' in Negombo on 29 July and the second in Colombo on 15 August. The next in the series will be held in Kandy and Galle on 9 September and 30 September respectively.