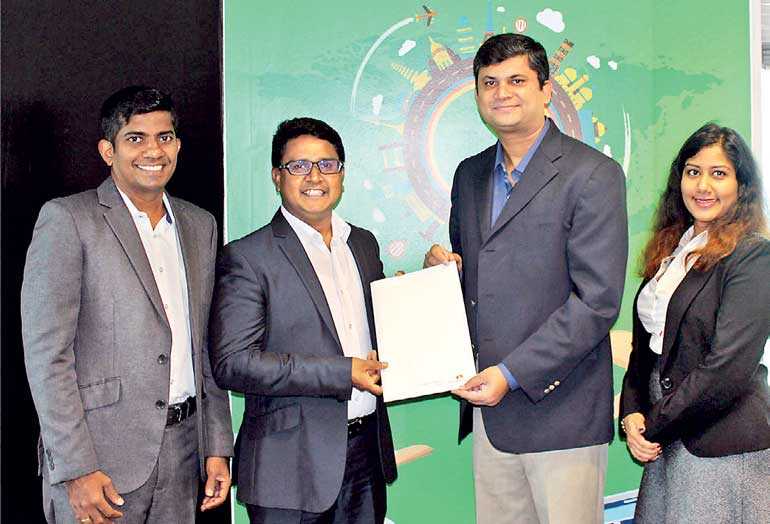 From left: InsureMe.lk Director Indika Prematunga, InsureMe.lk Director/CEO Vipula Dharmapala, Mastercard Country Manager – Sri Lanka and Maldives Santosh Kumar, Mastercard Senior Specialist – Account Management Sheranga Perera
InsureMe.lk, Sri Lanka's first digital insurance comparison web platform, powered by Dialog, signed up with Mastercard to offer a special promotion to purchase affordable lifeinsurance covers for all Mastercard cardholders.

This partnershipwill be in effect till the end of 2018. During this period World Mastercard cardholders will be entitled to a20% discount on the first premium paid for newlifeinsurance products purchased from any insurance company in Sri Lanka through Insureme.lk.

Platinum and other Mastercard cardholders will be entitled to discounts of 15% and 10% respectively. These discounts are applicable when making a payment for products purchased using adebit or credit card issued in conjunction with Mastercard.

Mastercard cardholders can avail these discounts by visiting the website www.insureme.lkor just by calling 0117 117 117. InsureMe.lk's expert team will then work towards finding the best lifeinsurance policy that matches the needs of the cardholderfrom any insurance company in Sri Lanka.

InsureMe.lk is a one stop insurance solutions provider that has endeavoured to turn complicated insurance processes into a much simpler format, guiding customers throughout the purchasing journey.Customers can compare not only the premiums but also the features under each policy either online or speaking to a customer care representative.The online platform allows for a wide range comparison of customised insurance solutions thus providing customers with the convenience of selecting the insurance policy that meets their requirements at the click of a button.

InsureMe.lk also assists customers during their time of need in the case of an unfortunate event to ensure that their claims are settled without hassle. The company is committed to providing a world class service to customers in all aspects of the insurance lifecycle by using the most cutting-edge technology.

InsureMe.lk CEO/Director Vipula Dharmapala said, "We are very proud to sign up with Mastercard and are confident that this will definitely benefit our valuable customers by enriching their savings. We are committed to offering the best insurance products and services to our customers while continuing to deliver on our promise of making insurance easy by providing amazing offers and deals as value additions."

Commenting on this innovative partnership Mastercard Country Manager – Sri Lanka and Maldives Santosh Kumar said, "InsureMe.lk is an innovative company that is demystifying the complexities involved in purchasing insurance. We are proud to partner with them and invite cardholders to take advantage of this wonderful service. This is just one of many benefits we are offering Mastercard cardholders to help them make the most of what life has to offer."

InsureMe.lk was founded by a team of young insurance professionals with the objective of delivering a professional service to customers through the use of innovative and convenient solutions. The team has decades of collective insurance experience,providing thecustomer accessto expertise on matters related to insurance and areliable, user friendly online platform for purchases which saves valuable time and money.

InsureMe Insurance Brokers Ltd. is a Licensed Insurance Broker of the Insurance Regulatory Commission of Sri Lanka and provides solutions for all Life and General insurance related needs and is committed to offering an unmatchable professional service to its corporate and individual customers.