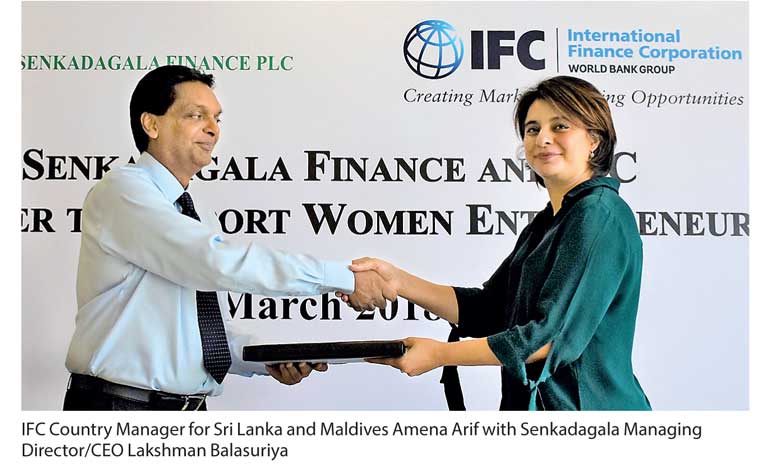 Move in partnership with Goldman Sachs 10,000 Women, to increase access to finance for women entrepreneurs
IFC, a member of the World Bank Group, is investing $15 million in Senkadagala Finance PLC to help the company expand access to finance for women entrepreneurs across Sri Lanka. This loan is part of the Women Entrepreneurs Opportunity Facility (WEOF), launched by IFC through its Banking on Women (BOW) program, and Goldman Sachs 10,000 Women.

This loan is expected to expand access to affordable financing for women-owned micro and small businesses over a five-year period, helping to narrow the credit gap for businesswomen. Of Sri Lanka's one million businesses, over 250,000 are headed by women. Ninety-two percent of these are micro and 4% are small sized. The IFC Enterprise Survey in 2011 estimates that up to 65% of small enterprises do not have access to a bank loan or credit.

"Having started our relationship with the IFC in 2014, this project is timely given the expansion plans of the company. It will enable Senkadagala Finance to further extend credit to women entrepreneurs," said Senkadagala Finance Director/Additional CEO Sanath Bandaranayake.

This is IFC's first investment in Sri Lanka targeted exclusively at women-owned entrepreneurs, and IFC's first local currency loan in the country.

"This project fits well with IFC's strategy to promote sustainable, inclusive growth, and we are keen to help create more and better jobs for women and narrow the credit gap for women entrepreneurs," said IFC Country Manager for Sri Lanka and Maldives Amena Arif. "IFC's second investment with Senkadagala Finance will create opportunities for female entrepreneurs in Sri Lanka, enabling them to grow and prosper."

The WEOF is the first-of-its-kind global facility dedicated to expanding access to capital for 100,000 women entrepreneurs. It aims to help close the credit gap for women-owned businesses around the world. IFC's BOW program is playing a catalytic role in helping financial institutions meet the needs of women entrepreneurs in a sustainable and profitable way. The program has committed 53 investments globally, totalling $1.68 billion, and undertaken 39 advisory projects since its launch in 2010. Of these, WEOF has supported more than $930 million in commitments to financial institutions in 19 countries.

"Goldman Sachs research shows that closing the credit gap for women-owned SMEs in emerging markets could push income per capita an average of 12% higher by 2030; women entrepreneurs have real potential to impact Sri Lanka's future growth. Through this partnership, we will help to build resilient, women-owned businesses and enable women entrepreneurs to reach their full potential with the capital and support they need," said Charlotte Keenan, Head of 10,000 Women.

Sri Lanka is a priority country for IFC. IFC's committed portfolio in Sri Lanka covers projects across a range of sectors, including infrastructure, tourism, renewable energy, finance, and healthcare. IFC also provides advisory services to promote sustainable growth among small and medium enterprises by facilitating access to finance and by offering capacity-building and training opportunities.