HSBC's commitment to the Belt and Road Initiative (BRI) has been recognised by Asiamoney in the publication's annual New Silk Road Finance Awards 2020 in the following categories:
Best Bank for Infrastructure/Project Finance in the Region (Southeast Asia)

Best Individual BRI Project or Initiative in the Region (South Asia)

Best International Bank in the Region for BRI (Middle East & Africa)

Best Bank for BRI-related financing in the Region (Middle East & Africa)
HSBC Head of Belt and Road Initiative and Business Corridors, Asia-Pacific Mukhtar Hussain said: "We are pleased to be recognised by Asiamoney for our work along the Belt and Road. Our vision is aligned with the BRI's goal of achieving a higher quality, and more open, inclusive, sustainable and market-driven program. As the world embarks on a journey to recovery from the impact of COVID-19, we are committed to supporting our clients in navigating the impacts in a sustainable way, leveraging the scale and strength of our global network.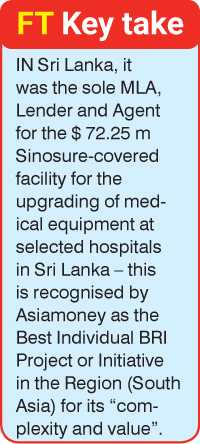 Last year, HSBC supported its clients in a number of major transactions along the Belt and Road. Its work in Southeast Asia is wide-ranging, including acting as financial adviser to a project that will cut travel times between Thailand's three airports to just one hour. Asiamoney described it as "a powerhouse in the region" and said that its financial expertise matched and overlapped with "exactly what China is trying to do with BRI".
In Sri Lanka, it was the sole MLA, Lender and Agent for the $ 72.25 m Sinosure-covered facility for the upgrading of medical equipment at selected hospitals in Sri Lanka – this is recognised by Asiamoney as the Best Individual BRI Project or Initiative in the Region (South Asia) for its "complexity and value". On HSBC's work in the Middle East, Asiamoney commented, "The connectivity it provides for Chinese corporate and financial institutions investing in the Middle East along the Belt and Road is second to none. Everywhere you look, it is a leader, both in action and in theory."
Key deals that it completed included acting as the Sole Financial Adviser to State Grid International Development Ltd. on its acquisition of a 49% equity stake in Oman Electricity Transmission Company.
In driving the internationalisation of the Chinese currency in the digital context, HSBC executed the world's first cross-border RMB block-chain Letter of Credit, which significantly shortened the time required for the client to release their products to the market and enhanced the way they serve their partners domestically and around the world.
Its commitment to sustainability and to driving the internationalisation of the Renminbi has been well-recognised: in 2020, HSBC was ranked #1 overall for the ninth year in a row in Asiamoney's Global RMB Poll, and was also recognised by Euromoney as the World's Best Bank for Sustainable Finance for the second year running in 2020.