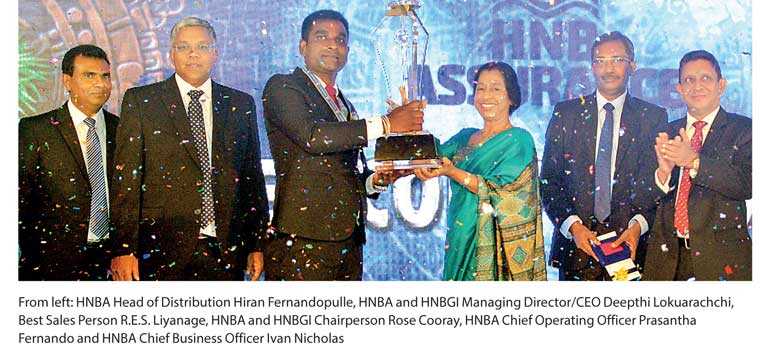 HNBA Assurance PLC (HNBA) felicitated the maestros of the Advisor Force at the recently held Annual Sales Convention. The 13th Sales Convention of HNBA was held at the Citrus Hotel, Waskaduwa. This night of celebration was graced by the presence of Chairperson of HNBA and its fully owned subsidiary, HNB General Insurance Ltd. (HNBGI), Rose Cooray as Chief Guest, Members of the Board of Directors of HNBA together with the Management of HNBA and HNBGI. The theme of the night highlighted the Mayan Civilisation, depicting bravery, strength and innovativeness of the Advisor Channel and the Company.

Sharing her thoughts, Chairperson of HNBA and HNBGI Cooray stated, "This star-studded night celebrates the extraordinary performance of our Advisor Force. The Advisor Force has proven to be the backbone of the insurance industry and has played a pivotal role in bringing the Company where it is today. I'm extremely pleased on the performance of our Advisor Force delivered during 2017 and honoured to witness their great achievements."

HNBA and HNBGI Managing Director/CEO Deepthi Lokuarachchi shared his thoughts stating, "Tonight we laud and honour the go-getters of our Advisor Force for their commitment, dedication and more importantly for their significant contribution towards business growth. The Advisor Force generates a Gross Written Premium (GWP) accounting for 70% of the total GWP and over the years, the Advisor Force has immensely contributed to the success of the Company by capturing growth opportunities as well as in trailblazing and seizing potential market segments."

Speaking at the event, HNBA Chief Operating Officer Prasantha Fernando stated, "Tonight we celebrate and pay tribute to our Advisor Force which has shown relentless passion towards the business by striving for excellence and growing the business despite stiff competition in the industry. And I'm sure that with these great achievements our Advisors will continue to grow as the business continues to reach new heights in its journey."

HNBA Chief Business Officer oIvan Nicholas thanked the Advisor Force stating, "We're extremely proud of what our Advisor Force has achieved over the years and we're grateful for the sheer enthusiasm, commitment and the winning spirit of our Advisor Force in growing the business. Our Advisors with no doubt exemplifies to the true values of a noble Life Insurance Advisor and we're sure that the Advisor Force will continue to yield extraordinary results by setting new benchmarks in the industry."

The 13th Sales Convention of HNBA felicitated 227 top-notch Advisors under categories of Bronze, Silver, Gold and Super Gold including awards for the Best Service Center, Best Zonal Manager, Best Cluster Manager, Best Regional Office Manager and Million Dollar Round Table (MDRT) qualifiers were also recognised at the event. The most esteemed award of the night 'the Best Sales Person of the Year' was awarded to R.E.S. Liyanage.