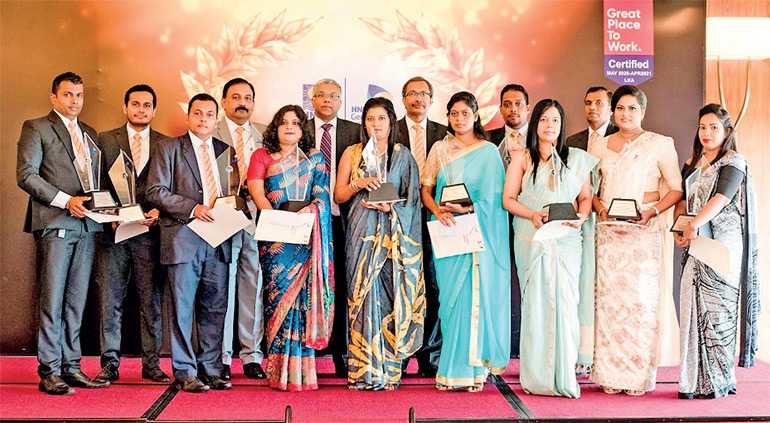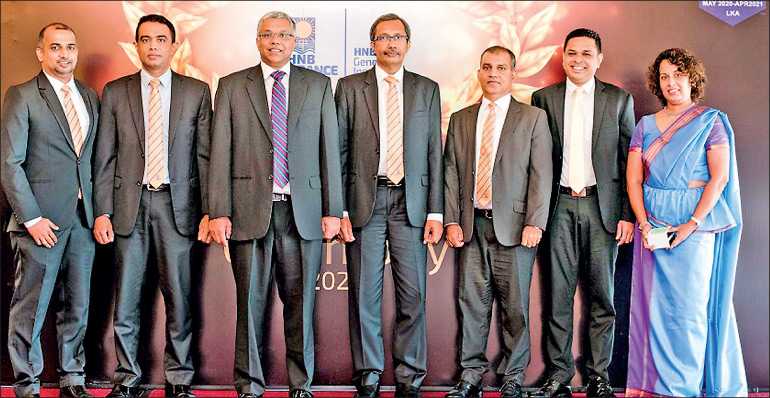 HNB Assurance PLC (HNBA) and its fully-owned subsidiary HNB General Insurance Ltd. (HNBGI) recently concluded its Chairman's and Long Service Awards Ceremony 2020 at the Taj Samudra, Colombo.

Held in celebration of staff excellence, the event was attended by a limited number of guests as set out by the Company in adherence to all health and safety guidelines.

This special occasion was joined by the members of the senior management of HNBA and HNBGI and other distinguished guests, to present and witness the crowning of 12 Chairman's Award Winners and eight Long Service Award Winners.

Expressing views on the event, HNBA and HNBGI Chief Executive Officer Prasantha Fernando said: "Operating amidst concerning times in terms of both, health and the economy, the Group has chartered its way through to confidently address many of its business pillars including stakeholder value creation and employee wellbeing as part of the Company's drive towards industry excellence. Celebrating achievements, winning spirit and talents in this setting is a challenge, and yet we have come together to admire and reward the laudable efforts of our very fellow staff members as their immense dedication is core to the Group's success.

"This is also evident by the Group's recent Great Place to Work certification. Furthermore, we firmly believe that tapping the capacity and contribution of our professional staff members to guide and equip them with skills and knowledge for their individual career development is primary in our advancement, and would also assist our market stand remain deep-rooted. I extend my heartiest wishes to the Winners and wish them all the very best in their future endeavours." Sharing his thoughts, Chief Human Resource Officer Dinuka Pattikiriarachchi said: "Recognising and appreciating the value of an exceptional employee should not be determined upon the overall performance standards of a company, nor the favourability of the economic outlook posed by a particular year. It is a blunt fact that the COVID-19 pandemic had brought about a challenging state over business, staging an inflexible uphill battle to reach pre-pandemic growth rates. Nevertheless, we as an organisation stand firm in our commitment to nurture a great place to work in which employee recognition is an essential part in our way of life."

Speaking further, Pattikiriarachchi stated, "This occasion is one such event in our employee calendar in which we stood not to divest from the said grounds. It is indeed in times such as this, that employers are required to 'walk the talk' for their most important asset, the inner public, the go-getters. I am gladdened, and am sure that this ceremony was a reward for the past, and an investment for the future."

HNB Assurance PLC (HNBA) is one of the fastest growing Insurance Companies in Sri Lanka with a network of 63 branches. HNBA is a Life Insurance company with a rating of A (lka) by Fitch Ratings Lanka for 'National Insurer Financial Strength Rating'. Following the introduction of the segregation rules by the Insurer Regulator, HNB General Insurance Ltd. (HNBGI) was created and commenced its operations in January 2015; HNBGI continues to specialise in motor, non-motor and Takaful insurance solutions and is a fully owned subsidiary of HNB Assurance PLC. HNBA is rated within the Top 100 Brands and Top 100 companies in Sri Lanka by LMD and HNB Assurance has won international awards for Brand Excellence, Digital Marketing and HR Excellence and also won many awards for its Annual Reports at the Award ceremonies organised by the Institute of Chartered Accountants of Sri Lanka and SAFA (South Asian Federation Accountants).