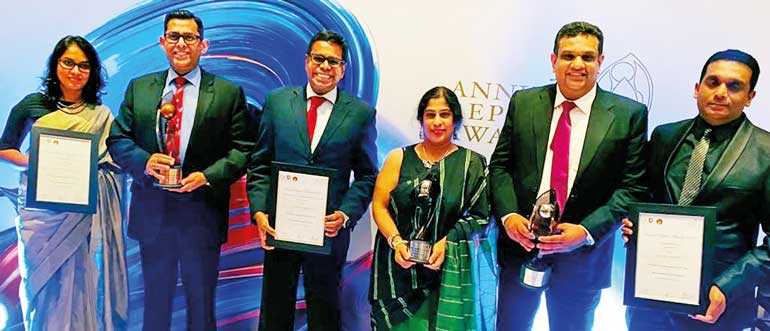 From left: HNB Senior Manager – Strategic Planning Priyanka Wijayaratne, HNB Deputy General Manager – Risk/Chief Risk Officer/Chief Information Security Officer Damith Pallewatte, HNB Chief Operating Officer Dilshan Rodrigo, HNB Chief Financial Officer Anusha Gallage, HNB Senior Manager (Internal Audit) Murtaza Normanbhoy and HNB Officer in Charge – Sustainable Business Shanel Perera
---
Bank clinches special award for overall excellence in annual financial reporting
Sri Lanka's leading private sector bank HNB PLC bagged two Silvers and a Bronze, a total win of three awards at the recently concluded Chartered Accountants of Sri Lanka's 55th Annual Report awards.

The bank was bestowed the Silvers for excellence in the banking institution and corporate governance disclosure categories and the Bronze for overall excellence in annual financial reporting, in true testament to HNB's commitment to sound corporate governance.

HNB's Chief Financial Officer Anusha Gallage said: "It is an honour to be recognised for our leadership in financial reporting. HNB is conscious of the diverse needs of our stakeholders and has put in place robust mechanisms to ensure that corporate governance principles are embedded in our culture. This award inspires us to continue to re imagine banking and do even better for our customers, employees and stakeholders."

"Transparency, accountability and corporate responsibility are important if Sri Lanka is to achieve a sustainable financial system that is on par with global standards. We believe that our annual reports and disclosures are vital towards providing all stakeholders with a clear and accurate snapshot of our performance. We are honoured to once again have been presented with such prestigious accolades at this year's awards as well" said an upbeat Gallage

Organised by the Institute of Chartered Accountants of Sri Lanka (CA), the awards recognise as an important corporate level competition which promotes the attributes which are vital elements of good corporate practice. As in previous years, the event attracted participation from the crème of the Country's corporates with 130 entries across every sector of the domestic economy.

The gala event was held under the patronage of Chief Guest, State Minister for Trade and Consumer Affairs Anura Priyadarshana Yapa.

HNB is at the forefront of leveraging digital technology to shape the future of banking and was recently applauded as one of top three corporates at the Ceylon Chamber of Commerce (CCC) Best Corporate Citizen Awards. At this event, the bank was plied with seven awards, evidence of its commitment to values of social, economic and environmental sustainability across its products, services and operations.