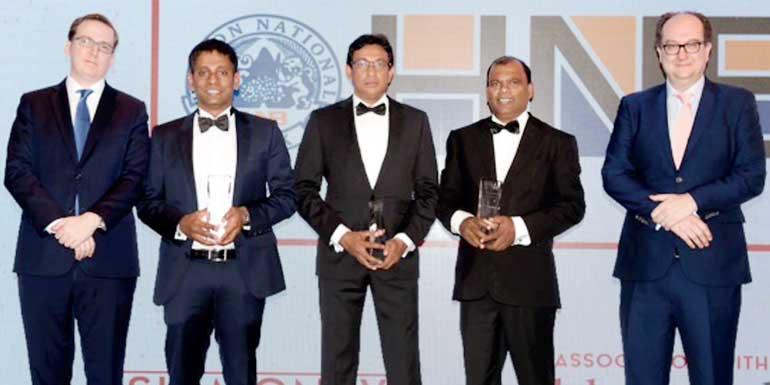 Representatives from Asiamoney together with HNB Deputy General Manager – Corporate Banking Ruwan Manatunga, HNB Assistant General Manager – Network Management Nirosh Perera and HNB Deputy General Manager – SME and Midmarket Jude Fernando at the Asiamoney Banking Awards 2018
In a continuing spree of garnering numerous prestigious awards, HNB announced its big wins at the eminent Asiamoney Banking Awards. Held in Hong Kong recently, Sri Lanka's leading private sector bank, HNB was awarded for 'Best SME Bank' and 'Best Digital Bank' by Asiamoney magazine.

The bank was also lauded for 'Best Bank in Cash Management' in the country, based on a client satisfaction survey.

The awards were received by senior executives of HNB at a ceremony held at the JW Marriot in Hong Kong, which was attended by celebrity senior bankers from across Asia. 'Best SME Bank' was won for the second successive year, while the "Best Digital Bank and the "Best Bank for Cash Management" in Sri Lanka was won for the first time.

HNB Managing Director and Chief Executive Jonathan Alles on the win said, "At HNB, we put our customers first and the confidence that our customers have in us drives us to excel and to redefine boundaries."

"We continue to garner numerous prestigious awards for 2017 and now in 2018, reflecting our growing strength and influence on the financial landscape throughout Asia. We are proud that the market recognises the strengths of our diverse team and our ability to deliver innovative financial solutions to our customers," expressed Alles.

Asiamoney cites HNB's pioneering status in the SME segment, its relentless efforts to bring in value additions with several partnerships and its assistance to SMEs in their transition towards the digital economy, as defining elements for the bank to be awarded as the Best SME Bank.

HNB is the first local bank to offer a Web-based, fully integrated Payment and Cash Management (PCM) platform-HNB Online. The bank has leveraged on this state-of-the-art platform along with a dedicated business team, considered the best in the industry and within a short period of time, been able to make significant strides in securing a leadership position in the cash management space - which was previously a captive business of the multinational banks. This facilitated the "Best Bank for Cash Management" award.

In bestowing "Best Digital Bank" award, Asiamoney praised HNB's ability to migrate customers on to multifunctional ATM's and digital channels in a country where cash continues to be a large part of the economy while also significantly increasing the volumes of digital transactions.

Core strength for HNB is its extensive brick-and-mortar presence spanning 250 locations across the island, complemented by 600 independent customer touch points that provide comprehensive self-service facilities. The bank's investments into IT and service optimisation have already generated significant new opportunities with regards to SME banking through the introduction of technology based banking products and services specifically designed to appeal to SMEs and entrepreneurs operating at the grass root level.

With a legacy that commenced 130 years ago, HNB has strong leadership in retail, SME, corporate, and digital banking. Fuelled by a commitment to innovation and excellence, the bank has achieved extensive local and global recognition for its product and service innovation.