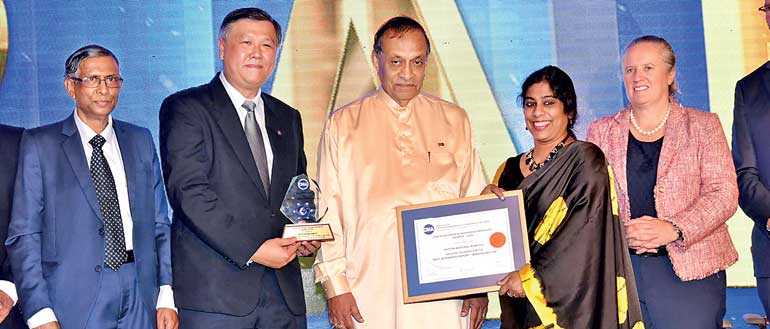 Singapore Institute of Technology Professor of Accounting Prof. Ho Yew Kee and Chief Guest Speaker of Parliament Karu Jayasuriya handing over the award to HNB Chief Financial Officer Anusha Gallage. CMA President Prof Lakshman R. Watawala and International Federation of Accounts (IFAC) President Rachel Grimes are also present

Officer in Charge – Sustainable Business Shanel Perera, Chief Financial Officer Anusha Gallage, Senior Manager – Strategic Planning Priyanka Wijayaratne, Accountant – Financial Reporting Sonali Fernando and Assistant Manager – Sustainable Business Hemantha Senavirathna of HNB with the awards
Sri Lanka's best performing private sector commercial bank, HNB, won significant recognition at the recently concluded Excellence in Integrated Reporting Awards 2018, winning an award for the Top Ten Best Integrated Reports in addition to being crowned winners in the banking sector.

Organised by the Institute of Certified Management Accountants of Sri Lanka (CMA), the awards featured participation from a wide variety of listed and unlisted companies including State-owned enterprises and small and medium enterprises (SME).

"We are greatly honoured that HNB has once again received such resounding recognition to be counted among the Ten Best Integrated Reports, and being ranked as having the best annual report from the banking sector. While the preparation required for this format of reporting can be challenging, we believe that ultimately, such in-depth analysis of an organisation's performance enhances the way that we think, plan, and report the story of how HNB functions through the year. In that regard, HNB remains committed to constant refinement of its reporting protocols in order to ensure a high level of stakeholder engagement while maintaining strong governance controls, thereby ensuring that HNB continues to thrive while remaining transparent and accountable to all stakeholders," HNB Chief Financial Officer Anusha Gallage said. Operating across 251 branches island-wide HNB today stands as Sri Lanka's largest, most successful and most innovative private sector commercial bank. The bank continues to win local and international accolades in recognition of its outstanding efforts in building a new paradigm of digitally empowered banking in Sri Lanka.

Since making its first appearance on the prestigious Banker Magazine's list of Top 1,000 banks, HNB has today soared the top of the list among Sri Lankan banks in addition to being recognized as Bank of the Year 2018 and being awarded Best Retail Bank in Sri Lanka for the 10th time at the Asian Banker Awards.

HNB also stands as the most profitable private banking group in the country, maintaining a strong and growing presence across retail, corporate and Micro and SME sectors, extending cutting edge banking and financial services to a wide range of clients.

HNB's leadership in technology was most recently recognized with the Bank's ATM network being awarded the 'Best ATM Network of the Year' at the Lanka Pay Technovation Awards 2017. Additionally, HNB was also awarded Best SME Bank, Best Digital Bank and Best Cash Management Bank at the Asiamoney Country Awards while the International Finance Magazine presented HNB with the award for Most Innovative Microfinance Bank in Sri Lanka.

HNB also stands as the first local Bank in Sri Lanka to receive an international rating on par with the sovereign from Moody's Investor Services while maintaining a national long term rating of AA- (lka) from Fitch Ratings Lanka Ltd.