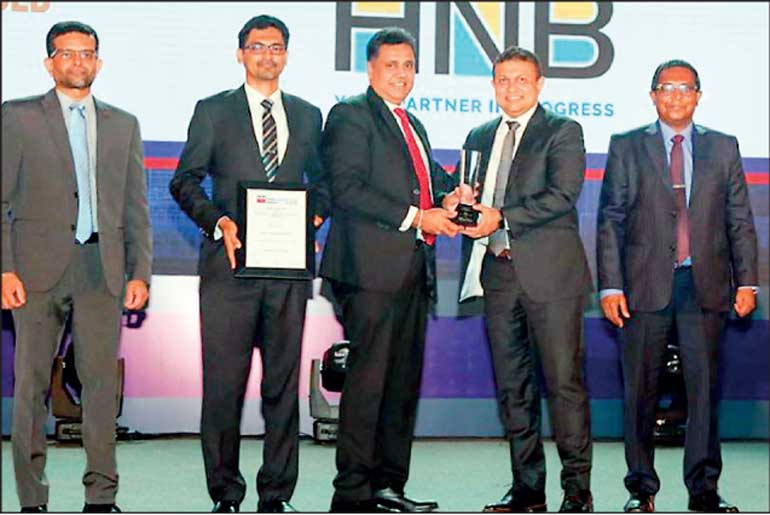 HNB Deputy General Manager – Retail and SME Banking Sanjay Wijemanne accepting the Gold Award for the Bank of the Year for Excellence in Customer Convenience from LankaClear Chairman Dr. Kenneth De Zilwa in the presence of (from left): LankaClear former General Manager/CEO Sunimal Weerasooriya, HNB Manager – Digital Banking Chakshika Amarawardhana and LankaClear General Manger/CEO Channa de Silva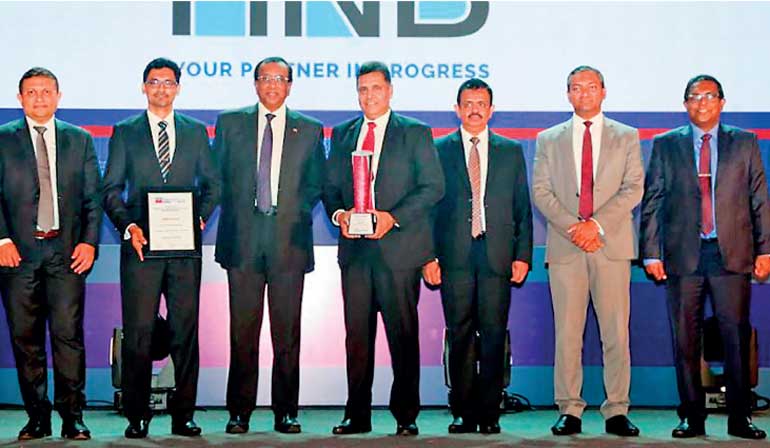 From left: LankaClear Chairman Dr. Kenneth De Zilwa, HNB Manager – Digital Banking Chakshika Amarawardhana, Secretary to the Ministry of Technology/Guest of Honour Jayahtha De Silva, HNB Deputy General Manager – Retail and SME Banking Sanjay Wijemanne, CBSL Assistant Governor Dharmasiri Kumaratunga, Panel of Judges Chairman Oshada Senanayake and LankaClear General Manager/CEO Channa de Silva with the Bronze Award for 'Overall Award – Excellence in Interbank Digital Payments' (Banking Institutions)
Bank of the Year for Excellence in Customer Convenience and Bank of the Year for Financial Inclusivity are two of the four prestigious titles won
Sri Lanka's premier private sector bank HNB PLC recently bagged four awards at the LankaPay Technnovation Awards 2022.

HNB was awarded the prestigious Bank of the Year for Financial Inclusivity and Bank of the Year for Excellence in Customer Convenience titles. Hosted by LankaClear to recognise and reward flag bearers and promoters of innovative digital payment solutions, the awarding night was held at Shangri-La Hotel Colombo, with the participation of State Minister of Digital Technology and Enterprise Development Namal Rajapaksa as the Chief Guest, Secretary to the Ministry of Technology Jayantha De Silva as the Guest of Honour, Chairman Panel of Judges Oshada Senanayake and LankaClear Chairman Dr. Kenneth De Zilwa, together with representatives from financial institutions across the island.

Commenting on the wins, HNB Deputy General Manager – Retail and SME Banking Sanjay Wijemanne said: "We would firstly like to congratulate all the winners and nominees who have taken remarkable strides to make Sri Lanka a digitally empowered nation. We are also thrilled to have our initiatives towards supporting innovative digital payment solutions be recognised at such a prestigious gathering.

"Since the pandemic, we have worked tirelessly towards digitally empowering customers to access a cashless and contactless ecosystem. Given that LankaPay, a notable body that has supported and encouraged the digital expansion of payment solutions throughout the nation, has recognised our efforts further solidifies HNB's mission to bring about a digitally empowered nation."

In addition to being presented with the Gold awards for the Bank of the Year for Excellence in Customer Convenience and Bank of the Year for Financial Inclusivity categories. HNB also won the Silver award for 'Financial Institution of the Year for Best Digital Payment Strategy', and Bronze for 'Overall Award – Excellence in Interbank Digital Payments' (Banking Institutions) this year.

Initiated in 2017 with the aim of recognising the pioneers of payment technology innovations in the country, the LankaPay Technnovation Awards institutions that enhance the efficiency of the national payment network.

"It is quite evident that the world is seamlessly adapting to digital mediums, especially regarding financial requirements. HNB will continue to understand this shift and work to improve its digital portfolio and strategy set by the bank to suit the average customer's needs. I congratulate every staff member in our team for turning the spotlight onto us, and we will continue to improve and innovate," HNB DGM – Retail and SME Banking Sanjay Wijemanne said.