HNB PLC announced further expansion to its cash withdrawal and deposit touch-points, providing customers with more convenience to make cash withdrawals and deposits. Further solidifying its presence in provincial towns, HNB recently commissioned its 600th Smart Self Service Machine (SSSM) at Kavita's Store, Ratnapura. With this expansion, the bank has now effectively increased its cash touch-points extensively.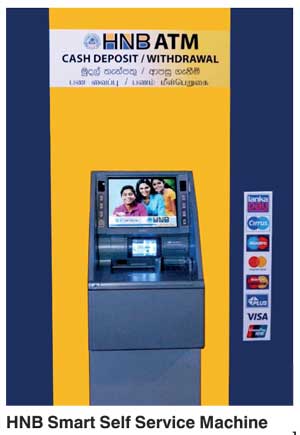 HNB's Head of Card Centre and Electronic Delivery Channels Mangala P. Wickramasinghe said, "At HNB, we are committed to placing customers at the heart of the banking experience. While we have seen increased usage of online banking and mobile payments, we also understand some of our customers do have cash needs and our physical banking touch-points remain an important part of our network to fulfil these needs. Over the years, through our strategic partnerships, we have increased our presence across Sri Lanka to make banking even more convenient for our customers."

As the name suggests, the Smart Self Service Machine (SSSM) at a popular shopping location offers customers a plethora of services including cash withdrawal and deposits, real-time fund transfers even to other bank accounts, credit card payments and utility payments.

Currency conversions, online cheque acceptance, cardless transactions, topping up of HNB Prepaid Cards such as Smart Pay and Wally-E are all possible at any of the SSSMs.

In keeping with the bank's recent efforts to expand its scope of technologically enhanced services, HNB has been driving progressive improvements into its SSSM network.

Having successfully implemented the very first cash recycling machine in the island, the bank has incorporated cashless payments plus direct deposits to HNB Accounts, through its Customer Deposit Machines (CDM). Even non- HNB customers could make utility payments through the CDM's, most of which are on a real-time basis.

As the largest payee aggregator in the banking industry, HNB has a portfolio of more than 80 plus registered payee partners from a range of diverse industries such as telecommunications, insurance, education and asset management. The collective needs of these partners are served by the bank's state of the art payee system.

The partnership with Lanka Clear National Payment Switch has also extended all banking services which were limited to HNB customers previously, to a wider banking population. At a reasonable cost, HNB's ATM services could be accessed by customers of several other banks which are partners of Lanka Pay.

The tie-up has made possible for HNB to serve its customers plus those of certain designated banks as well as Sri Lanka's unbanked population, through various cash and non-cash related services.

With over 600 SSSMs – including 438 dispensing machines and 162 Cash Deposit Machines – HNB is the 100% net acquirer among all acquiring banks in Sri Lanka and over the last year, recorded a 73% Year-on-Year (YoY) expansion in overall transaction volumes and a further 70% YoY increase in average transaction value. The bank was awarded with the Best ATM Network of the Year award at the LankaPay Technnovation Awards 2017 for the bank's unprecedented levels of service, reach, availability and quality provided through its Smart SSM Network.