Extending a winning legacy, Sri Lanka's premier retail sector bank, HNB PLC, received two awards in recognition of its superior reporting standards at the recently concluded 53rd CA Sri Lanka Annual Report Awards 2017.

Building on its performance at last year's awards, HNB was presented with the Silver Award in the Banking institutions category, jointly held with NDB, in addition to a further Bronze Award in the Corporate Governance Disclosure category.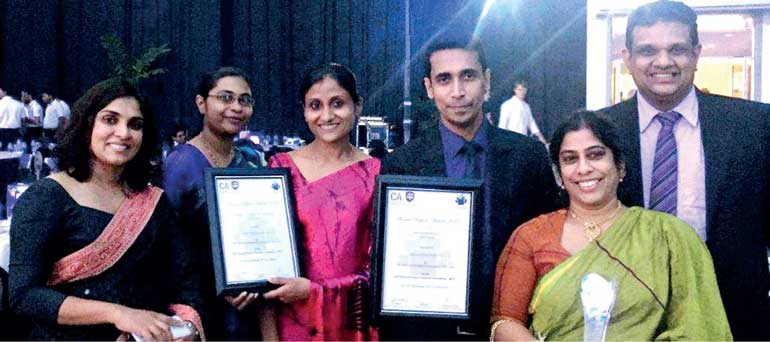 From left: Priyanka Wijayaratne, Senior Manager – Strategic Planning, Gayathri Ganeshan, Senior Manager – Talent Development & Sustainability, Anuradhi Delage, Senior Manager – Finance, Ruwan Fernando, Accountant – Head Office, Anusha Gallage, Chief Financial Officer and Murtaza Normanbhoy, Senior Manager – Internal Audit with the awards.
"We at HNB remain deeply committed towards driving elevated standards across all aspects of the banking industry. Over the recent past, HNB has embarked on a transformational journey which we believe will help set the pace for the entire industry in years to come. Transparency, accountability, good governance and a vibrant stakeholder engagement are essential components to this transformation."

"Our victory at the CA Sri Lanka Annual Report Awards 2017 is therefore an important affirmation of the remarkable progress HNB continues to make in our efforts to present our valued stakeholders with clear, and precise information that goes beyond the basics in order to deliver an objective and holistic view of HNB's remarkable performance, and outstanding growth potential moving forward," HNB Chief Financial Officer Anusha Gallage explained.

Considered among the most prestigious events in the Sri Lankan business calendar, this year's awards were held under the patronage of Chief Guest, Prime Minister Ranil Wickremesinghe and Guest of Honour and Speaker of Parliament Karu Jayasuriya.

A total of over 140 organisations competed in this year's CA Sri Lanka Annual Report Awards which are organised to promote transparency, accountability and social responsibility in financial reporting. This year's ceremony was held under the theme: 'Quintessence of Eminence', with winners being selected based on their ability to produce cohesive, clear and customised annual reports that best reflect the operational and financial performance of each respective company.

Last year too, HNB was presented with the Silver Award in the Banking Institutions category. This year's award represents the most recent in a series of accolades conferred upon HNB in recognition of a stellar financial year, combined with the roll-out of innovative, technology-enabled products and services that are setting industry benchmarks both locally and regionally.

Notable among the bank's more recent accolades is the Banker Magazine UK's pronouncement of HNB as Bank of the Year 2017. Similarly, HNB was also recognised as the Best Retail Bank in Sri Lanka at the Asian Banker Awards 2017 for the 9th time while HNB also won recognition for possessing the 'Best Micro finance Product in the Asia Pacific Region'.

Additionally, HNB was awarded Best Bank for SME and Best Bank for CSR in Sri Lanka by the Asia Money Magazine. CFA Sri Lanka bestowed HNB with a 'Bronze' award for Investor Relations while HNB's Annual Report was adjudged to be among the top 10 integrated reports at the CMA Sri Lanka awards 2017.

Similarly, HNB's leadership in technology was also recognised with the bank's extensive ATM network being awarded the 'Best ATM Network of the Year' at the Lanka Pay Technnovation Awards 2017. Furthermore, HNB moved up the ranks during the year to be ranked No. 3 in the LMD Top 100 Companies ranking and to the second position in Business Today top 30 rankings, which places HNB as the highest ranked bank in both these rankings.