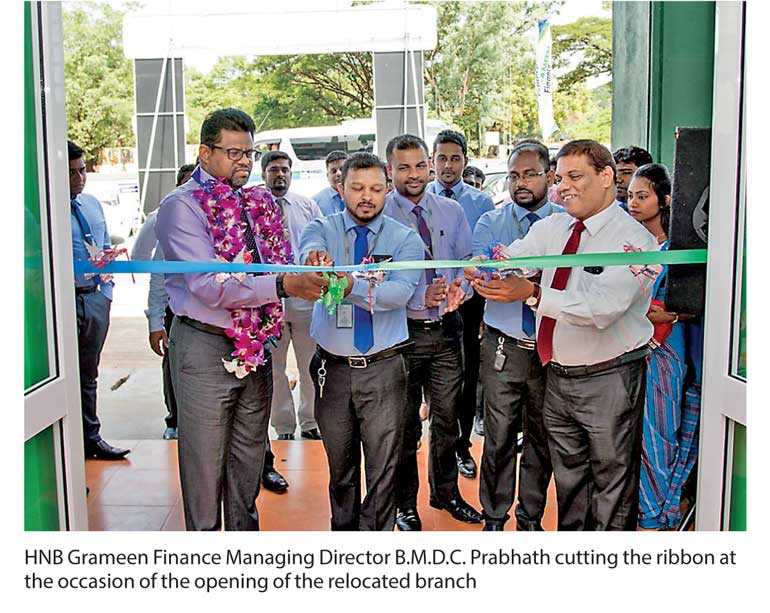 Responding to increased customer demand and in line with its fast-paced expansion drive, HNB Grameen Finance moved its Dambulla branch to a new office premises to offer multi-faceted financial solutions to customers. Located at 858, Dambulugama Handiya, Dambulla, the spacious new office is equipped with ample parking.

A host of invitees attended the opening ceremony of the new office including HNB Grameen Finance Managing Director B.M.D.C. Prabath as the Chief Guest along with a number of HNB Grameen Finance officials and Assistant General Managers. HNB Grameen Finance Dambulla branch will be open for business transactions from 8:30 a.m. to 5 p.m. on weekdays.

Since its inception in 2008, the Dambulla HNB Grameen Finance has been providing a plethora of financial services to business owners in the area as well as those that frequent this economically central location. The new branch will offer business loans, personal loans, leasing facilities, hire purchase facilities, fixed deposits as well as savings.

Concurrently to the branch opening, HNB Grameen Finance conducted a financial solutions marketing drive in nearby Galewela and Naula. The marketing drive saw the participation of celebrated 'Kopi Kade' performers as well as the media presence of ITN FM.

Commenting on the branch relocation, Prabath said: "We've been providing our products and services to members of the business community in Dambulla successfully for the past 10 years. This decade long partnership with a key economic hub in the country can move on to the next level with the branch relocation. We will be able to optimise our services and offer enhanced convenience and efficiency to our customers in the region."

Dambulla is a crucial economic centre in the country which attracts numerous small, medium and large business owners on a daily basis. As a trusted financial services provider across the nation, HNB Grameen Finance has been effectively catering to this segment of business owners during the past decade.

HNB Grameen Finance Ltd. was established in the year 2000 and is licensed as a registered Finance Company by the Monetary Board of the Central Bank of Sri Lanka. The company pioneered commercial based microfinance in Sri Lanka, charting a new course for the enterprising but inclusive small scale entrepreneurs of Sri Lanka.

Maintaining an extensive island-wide presence across 42 branches with the power of Hatton National Bank's 650 ATM machines, HNB Grameen Finance has over the recent past expanded into new fields of business and now offers Small and Medium Enterprise (SME) Loans in addition to Savings and Leasing products.