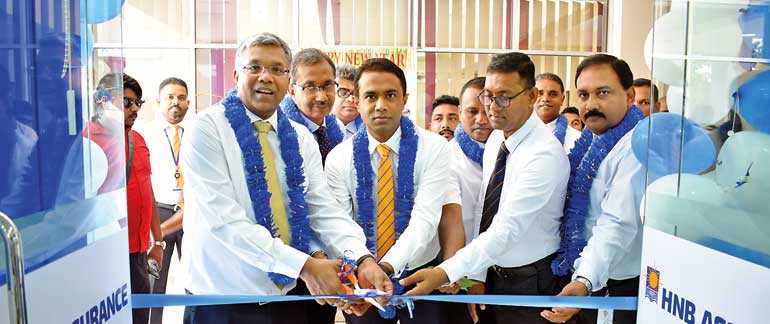 HNB Assurance PLC (HNBA) declared open the doors of its 63rd Branch located in Madawachchiya. In adherence to the company's bold commitment towards expanding its footprint, this new facility is purpose-designed to fulfil the all-important need of insurance for people, offering peace of mind about life insurance solutions available within the company's portfolio. The Chief Guest of this occasion was HNBA and HNB General Insurance Ltd. (HNBGI) Managing Director/CEO Deepthi Lokuarachchi. The newly opened branch is located at First Floor, No. 102, Jaffna Road, Madawachchiya.

Speaking at the event, Managing Director/CEO Deepthi Lokuarachchi stated, "It is delightful to see how this new branch reflects tangible evidence of our progression towards being the 'Best in Class'. As this sets out a strong foundation for achieving service excellence, it further enriches the company's value proposition, making it stand out in a highly competitive industry such as insurance. Working towards the company's prime objective of providing continuous returns to its valuable customers, employees and of course all key stakeholders, this branch will keep them at the centre of attention, devoted to fulfilling their needs."

Sharing his views, HNBA Chief Operating Officer Prasantha Fernando stated, "This facility is of major strategic importance as it bridges the north and east areas of the country, being able to serve a wider customer base. Looking back at the long and successful journey the company has made it through many challenging factors within the industry and in the market as a whole, it is heartening to see how well these efforts have produced favourable outcomes. It is our view that products such as insurance would require well thought-out measures within a customer's buying process, and therefore it is our duty to provide them the convenience of state-of-the-art walk-in outlets as the essence of true customer service." HNBA Deputy Chief Operating Officer Lasitha Wimalaratne expressed his views stating, "Our operations around business expansion wields a great deal of competitiveness, and it has been a tremendous start for 2020, taking into account the growing stability of the brand that has been instilled across the country. This newly formed branch further assures the company's stand, as it will foster long-lasting relationships with our customers, given the effort and contribution of its highly competent team of professionals."

HNBA is one of the fastest growing insurance companies in Sri Lanka with a network of 63 branches.