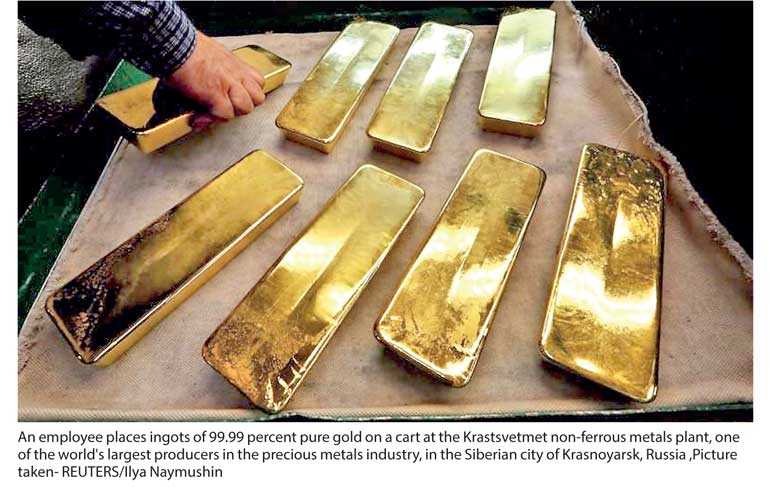 Silver hits 2-1/2 month high
Spot gold faces resistance at$1,356/oz: Technicals
Higher base metal prices could boost inflation: Analysts
LONDON (Reuters): Gold prices dipped on Thursday, weighed down by a firmer dollar and a decline in global geopolitical tensions, breaking a string of gains for four successive sessions.

Spot gold was down 0.2% at $1,346.60 per ounce by 1015 GMT, while US gold futures fell 0.3% to $1,349.90 per ounce.

"Uncertainty has decreased somewhat. Geopolitical worries, trade risk have moved to the background," said commodity strategist Georgette Boele at ABN AMRO in Amsterdam.

US President Donald Trump said on Wednesday he hoped an unprecedented summit with North Korean leader Kim Jong Un would be successful while Western missile strikes in Syria were less extensive than some had feared.

Boele said she expected gold to decline to around $1,330 after failing to break above resistance.

"There was a bit of upward momentum, but you are still in the $1,300-$1,365 range. It's more of a technical trade at the moment – it tries the upside again and if that doesn't succeed then it falls back."

Earlier in the week, a senior administration official said Trump delayed imposing additional sanctions on Russia.

"Gold is hardly reacting at all to market participants' concerns about new sanctions against Russia and the associated uncertainties," Commerzbank said in a note.

Spot gold faces resistance at $1,356 per ounce, a break above which could lead to a gain to $1,365.23, said Reuters technical analyst Wang Tao.

Also pressuring gold was a slightly firmer dollar index, making gold more expensive for buyers using other currencies.

Spot silver prices rose 0.3% to $17.20 per ounce, having touched their highest since 1 February at $17.31, earlier in the session. Platinum climbed 0.9% to $944.20 per ounce. It touched an over three-week high of $953.50 earlier in the day. Palladium gained 1.1% to $1,046.47 per ounce, after marking its highest since 27 February at $1,057.20.