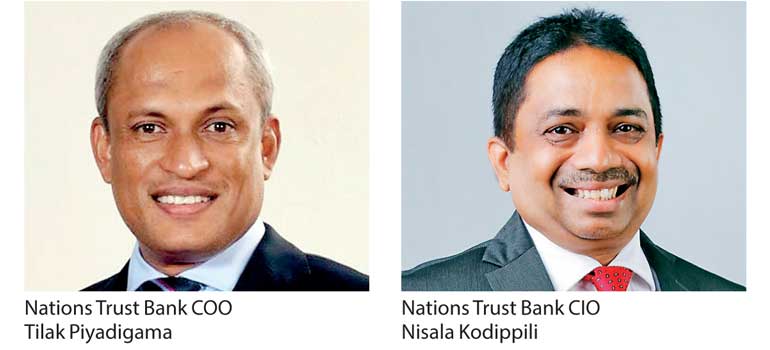 Sri Lanka's first digital bank wins award for Emerging Technologies-Led Innovation at the Infosys Client Innovation Global Awards in India
FriMi, the digital bank and lifestyle partner powered by Nations Trust Bank, has won the award for Emerging Technologies-Led Innovation at the recently-concluded Infosys Client Innovation Awards, which was held in Mysore, India.

FriMi is the first digital bank in Sri Lanka and allows new users to open interest earning accounts directly from their smartphones, with no visit to a bank. It is also a digital payments and marketing platform, allowing users to pay for products and services at merchants and receive special offers.

Finacle is a core banking product developed by Infosys Ltd. of India and serves diverse clients all over the world. The Infosys Client Innovation Awards, now in its fourth year running, seeks to recognize and celebrate the most innovative uses of the FinacleCore Banking solution by clients across eight categories, which include: Product Innovation, Channels Innovation, Customer Service Innovation, Process Innovation, Innovative Custom Components, Project Management, API-based Innovations and Emerging Technologies-Led Innovation, the category in which FriMi was declared the winner.

Nations Trust Bank COO Tilak Piyadigama and CIO Nisala Kodippili, two of the key personalities behind the development of FriMi, shared their collective views on winning this prestigious award.

"We are thrilled and feel a real sense of accomplishment for the bank. Nisala was there to receive the award so he got to experience the glitz and glamour of it firsthand. The Infosys Finacle Client Innovation Awards is a massive event involving 350 participants from all over the world. In fact, we were chosen as the winner from among 160 nominations. Winning in that environment, particularly with FriMi being so young and having had our accomplishments reviewed by panels of global experts makes us feel very proud of all the effort we have put it in and grateful to have been recognized. Our tight integration with Finacle Core Banking Solutions and out-of-the-box use of the platform including the implementation of built-in biometric authentication support, which is a first for Sri Lanka, along with FriMi's vision, scalability and use case scenarios all contributed towards our victory.

"Winning this global award from InfoSys is a significant achievement because they are known amongst senior banking circles for their attention to detail and high standards. To have won means that we really impressed the selection panels and came out ahead of the competition, which is something we strive for."

In response to being asked why Nations Trust Bank chose to pioneer in this field and launch Sri Lanka's first digital bank, FriMi, they said: "Nations Trust Bank has always been a pioneer in many things. We pioneered 365-day banking, extended banking and other things which have been widely adopted. So why shouldn't we have been the ones to pioneer in this area? After all, we are one of the few banks, if not the only bank in Sri Lanka, to adopt a clearly digitally-oriented strategy as we feel that the future of banking is digital. FriMi is simply a small but concrete step on the journey towards a seamless, omni-channel banking solution. The world is changing so we've decided that instead of keeping up with change, we'd like to drive it.

"This journey has not been without challenges, in fact we've faced them right along. The most significant one was how to fulfil the KYC (Know Your Customer) requirements of the regulator. With FriMi we're opening accounts for strangers with no face-to-face meeting or appraisal of the customer. Our innovative product design uses public and personal information already available for each user. Our custom built eKYC process was implemented using the highest standards and solutions provided by industry leaders in security and bank information systems. Now we have a technology-driven process to handle KYC, which is capable of handling the whole process in a fully digital manner. However, since eKYC is still challenging, stringent standards KYC practises are still used in the backend to maintain highest level of scrutiny."

Discussing FriMi's vision for the future and what was next on the cards, they said: "We want FriMi to be a household name when you talk about financial and lifestyle services and cashless and cardless transactions. Basically we want FriMi to be your lifestyle partner, a one-stop shop for banking and financial services and build an eco-system around it. It must be a trusted, easy to use service. We also see FriMi increasing financial inclusion because through it, banking will be accessible to anyone with a smartphone with no visits to banks or minimum balance requirements. Soon we will also have full support for all three languages to aid this process. We are planning of taking FriMi internationally and this global scalability means that our growth potential is astronomical.

"While our aspirations are quite high, for now our focus is increasing our customer base and merchant acceptance while offering the convenience of banking, shopping, marketing and lifestyle services through a single platform. In addition to all this and by its very nature, FriMi is socially responsible, contributing towards saving vast amounts of paper and in turn, trees. We're also helping our customers save on fuel, travelling to and from the bank. Most importantly, for everyone involved, we're saving time."

Speaking about Nations Trust Bank's view on the future of digital banking, they stated: "The future of banking is digital, that much is clear. Therefore, the potential for expansion and innovation in this space is virtually limitless and we are working to capitalise on that. We see regulators now taking a keen interest and even the government working to provide the legal framework necessary, through legislation, to promote the digitalisation of banking and financial services. So our view on the future of digital banking is that it is bright and one in which we are working to shine bright in."

FriMi is a revolutionary, fully-fledged digital bank, payments platform and lifestyle partner powered by Nations Trust Bank. Sign up is 100% online, instant and open to anyone with a smartphone, a first for Sri Lanka. All FriMi accounts earn interest at rates of up to 7% p.a. and can be topped up by cash deposits at all Nations Trust Bank branches, CDMs and FriMi Agents or electronically via linked cards and accounts or direct digital fund transfers from any bank, including foreign remittances, and also by requesting and or receiving money from other FriMi users. It allows users to pay at merchants and send and receive money while enjoying the best offers and discounts, all through one simple app.