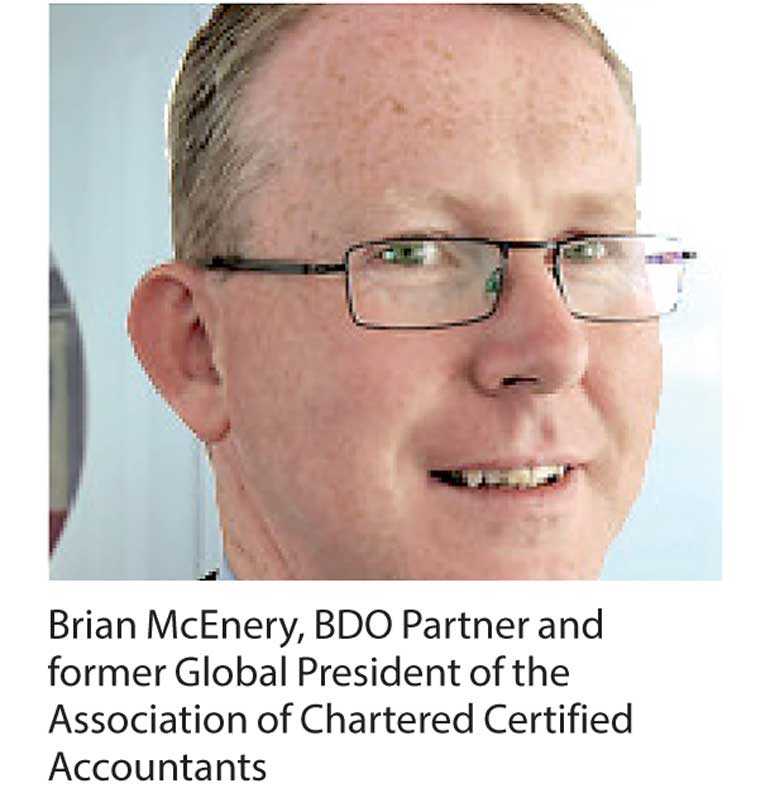 Brian McEnery, BDO Partner and former Global President of the Association of Chartered Certified Accountants (ACCA), will speak at the International Chamber of Commerce Sri Lanka and BDO Breakfast Forum tomorrow at the Kingsbury Hotel on the challenges facing the banking sector.

McEnery is a Partner at BDO Ireland specialising in Corporate Recovery and Insolvency. McEnery has led the turnaround of many large enterprises through formal schemes of arrangement. McEnery was selected as Accountant of the Year in Ireland in 2017.

In 2010, McEnery was appointed to the Board of Directors of Ireland's specialist Non-Performing Loan bank (NAMA) by the Minister for Finance. NAMA became the biggest NPL Bank in the world with a balance sheet of € 74 billion in non-performing loans. McEnery was reappointed as Director of NAMA for a second term and remains Chairman of the Audit Committee. McEnery has previously served on the Credit Committee of the agency as well as currently serving on the Risk and Remuneration Committee of the bank.

In 2018, NAMA completed the deleveraging of its loans and is set to make a profit of between € 3 billion and € 4 billion. It has been described as the best-performing non-performing loan bank in the world. The Government of Ireland is seeking to use the experience and track record of NAMA to deal with some other crises in the banking system in Ireland such as the provision of credit for residential housing.

In 2016, with the onset of Brexit, the Minister of Finance asked NAMA to use its lands in Dublin to develop office accommodation. This was very important as many financial service firms have taken up that space as they seek centres in Europe outside London.

McEnery has a deep interest in banking and the relationship between the role of auditors, regulators, bankers and other stakeholders in ensuring we do not return to another banking crisis.