---
Fintrex Finance Ltd. appointed renowned banker Jayathilake Bandara as its new Chief Executive Officer effective from 15 April.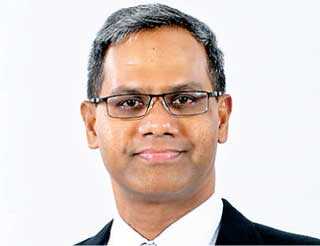 Jayathilake Bandara


Bandara is a respected professional in the banking and financial industry with over 31 years' of extensive, and intensive, experience in SME banking, factoring, leasing, hire purchase and other areas of banking.

Beginning his banking career at Seylan Bank PLC in 1989, he later joined Emirates Bank International PJSC, Dubai, UAE in 1998. On his return to Sri Lanka, Bandara joined Nations Trust Bank as Manager, Kurunegala Branch and worked his way up the ladder of the bank's hierarchy and reached the position of Deputy General Manager – SME Banking. At the time of leaving NTB, he was Senior Executive Vice President Commercial Banking, a member of the corporate management and several other management and Board committees. A result-oriented person with a strong analytical capability to understand business drivers, Bandara has, in his career, spearheaded, and implemented, a diversity of business and marketing strategies in creating disproportionate, but yet sustainable, value to all stakeholders. Bandara contributed significantly to the development, and growth, of Nations Trust Bank particularly in the last decade. He holds an MBA from American City University, Wyoming, USA, a diploma in Financial Management from Wigan and Leigh College, UK, an Associate Member of the Institute of Bankers of Sri Lanka and life member of Association of Professional Bankers in Sri Lanka. An alumnus of Frankfurt School of Business, Germany and an Associate Member of Sri Lanka Institute of Directors, Bandara is a strong results-oriented people's person. Having being exposed to some of the renowned leadership and strategic management training programs, both locally and overseas, Bandara believes in company transformation through strong leadership which emphasises on training and development.

Fintrex Finance is owned by Bluestone 1 Ltd., which comprises a consortium of world class investors including global insurance giant Fairfax Holdings who holds 70% along with MAS and Hirdaramani Group who together holds 24.14% and Ajit Gunewardena and connected parties who own the balance.

While the investors are represented on the Board of Fintrex by Ajit Gunewardene Chairman, Ronnie Peiris, and Shantanu Nagpal, all household names in corporate Sri Lanka, Mahendra Galgamuwa, Shivan Coorey, Keith Bernard and Shivanthi Athukorale, all with high reputation in the financial services industry, serve as Independent Directors.

Fintrex was formerly known as Melsta Regal Finance Ltd. and was a fully-owned subsidiary of Melstacorp PLC. The ownership moved from a trusted Sri Lankan conglomerate to another international financial powerhouse, giving Fintrex the continued strength to forge ahead and pursue its corporate goals.

The name Fintrex is coined from the words 'financial entrepreneurs' and 'experts'. It speaks to the powerful combination that sets the company apart from the rest. The new brand identity reflects the team's potential to maximise efforts and unlock value for customers. It signals a clear bias for action, speed and agility.