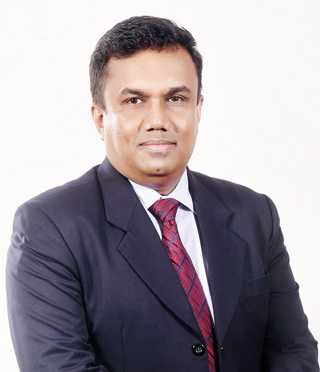 Fintrex Chief Operating Officer Sajeewa Sapukotana
---
A strong contender in the financial services sector, 'Fintrex Finance Ltd.' has been able to capture a sizeable share of market since its inception in 2007. With a commitment towards promoting economic inclusion, growth and development within Sri Lanka, 'Fintrex' intends playing a significant role in supporting businesses and communities while providing people with access to financial solutions for a better tomorrow.

Fintrex Finance Ltd. is owned by Bluestone 1 Ltd., backed by a consortium of world-class investors including global insurance giant Fairfax Holdings who holds 70% along with MAS and Hirdaramani Group who together holds 24% while the investors are represented on the Board of Fintrex by Ajit Gunewardene Chairman, Ronnie Peiris, and Shantanu Nagpal, all household names in corporate Sri Lanka, Mahendra Galgamuwa, Shivan Coorey, Keith Bernard and Shivanthi Athukorale, all with high reputation in the financial services industry, serving as Independent Directors.

Fintrex was formerly known as Melsta Regal Finance and was a fully-owned subsidiary of Melstacorp PLC. The ownership moved from a trusted Sri Lankan conglomerate to another trusted multinational giving Fintrex the continued strength to forge ahead and pursue its corporate goals. 'Fintrex' inherited a strong balance sheet from 'Melsta Regal Finance Ltd. which has shown growth in the period leading to the present amidst the challenges presented by the Easter Bombings in April 2019 and the prevailing global pandemic and has duly complied with the core capital requirements as per the Central Bank of Sri Lanka and is poised to grow its financial position further.

The purpose in establishing 'Fintrex' revolves around the market requirement for a unique financial proposition together with faster turnaround times to customers who seek assistance in financial well-being. While the key focus is on the SME segment, an often neglected area that needs much attention, Fintrex is accessible to anyone who needs a means of financing to grow and develop their business or their personal financial wealth. Fintrex aims to deliver all of this with a unique level of service to attracting and retaining customers, building loyalty, trust and long-term relationships with a diverse product portfolio customized to meet client requirements. The name 'Fintrex' is derived from 'financial entrepreneurship' and 'expertise' exemplifying these ideals and the very purpose for being in business.

Fintrex Finance offers a range of financial solutions from leasing facilities for purchase of registered, unregistered, and brand-new motor vehicles, loans of short- and long-term tenures as well as trade financing options and ancillary services supporting working capital requirements of businesses along with personal savings schemes in the form of savings accounts and fixed deposits at attractive rates of interest for minors up to senior citizen categories. Convenience and expediency is central to all operations at Fintrex and simplified and automated processes and channels ensure quick and efficient delivery in line with these parameters.

'Fintrex' has a presence in many of the key cities within Sri Lanka with a branch network of 11 which includes Colombo 07, Gampaha, Kalutara, Kiribathgoda, Kuliyapitiya, Negombo, Kandy, Matara, Kurunegala, Kegalle and Dambulla and will expand its coverage for better customer convenience island wide going forward. In an effort to bridge access and reach, 'Fintrex' has in place multiple easy payment methods from online payments via any bank including Commercial Bank, HNB and People's Bank, 'Dialog EZ Cash' which allows mobile phone based fund transfer and through all Cargills Food City outlets island-wide.

In the midst of the COVID-19 pandemic which presented a significant challenge to multiple businesses in Sri Lanka, 'Fintrex' stepped forward as a financial institution and provided much needed financial relief to many of its customers, existing and new, in line with the relief measures, policies and guidelines issued by the Central Bank of Sri Lanka to support businesses during these trying times.

Perceiving the current pandemic as a crisis relevant to not only to a single institution but as a significant problem afflicting multiple industries and the world at large which in turn has a cyclical effect on every group of stakeholders locally and internationally, the holistic approach of 'Fintrex' has been to identify multiple scenarios that arise and quantify possible effects in the future based on which plans are formulated to provide maximum relief for the difficulties experienced by customers. It is priority to serve the multiple businesses that are not severely affected by the pandemic but simply need assistance and support to conduct their operations in the most efficient way possible. In coping up with this unprecedented challenge, internally 'Fintrex' has undertaken many measures to ensure the health, safety, and wellbeing of its employees by establishing and implementing new regulations to be COVID-prepared and minimize the risk of spread.

The aim of Fintrex, 'to be better every day' has enhanced stability and credibility in the financial services sector making it a strong contender among many other players. 'Fintrex' today is an Institution that can make powerful interventions on behalf of the many financial requirements of businesses and individuals; the journey of growth which would not have been possible without the commitment, dedication and shared vision of its employees, Management and Directorate. Envisioned to be among the top five financial institutions in Sri Lanka within the next five years, Fintrex Finance is progressively and readily on its way.