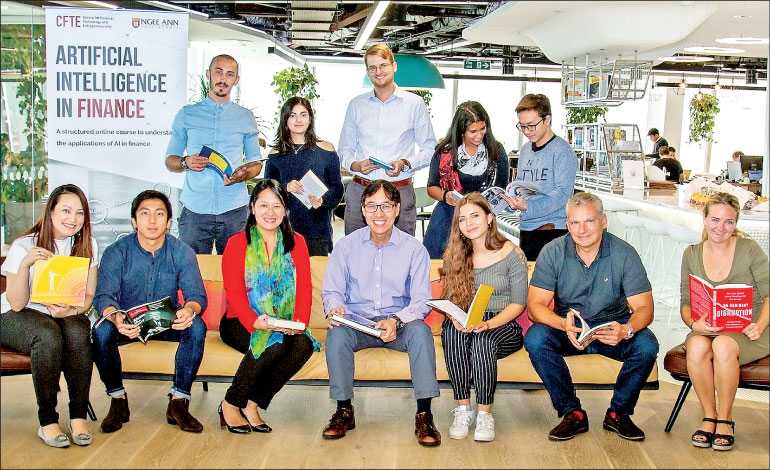 Senior lecturers and industry experts involved in the 'AI in Finance' program
---
Fintech Association of Sri Lanka (FASL) has launched 'Introduction to Artificial Intelligence in Finance' in collaboration with the UK-based Centre for Finance, Technology and Entrepreneurship (CFTE), a platform supported by senior leaders from the largest institutions, start-ups and universities, which is co-founded by Citi former Managing Director Huy Nguyen Trieu.

The course will give sufficient understanding for those who want to pursue the 'Artificial Intelligence in Finance' of the CFTE. The CFTE AI in Finance course has been developed in partnership with Ngee Ann Polytechnic, a leading institute of higher learning in Singapore and features high-quality content taught by five senior lecturers and 18 industry experts. With an easy-to-follow format, the course is perfect for busy professionals to understand the technologies behind AI and machine learning that are disrupting finance.

Candidates on completion of the CFTE's 'Artificial Intelligence in Finance', are eligible to obtain the certification, 'Certified Artificial Intelligence in Finance Professional' from the Global Academy of Finance and Management(GAFM), an accredited global graduate society for finance and management based in Colorado, USA, with membership spanning over 150 countries.

Artificial Intelligence in Finance is designed for industry professionals to remain competitive in a transforming financial industry.

New technological advancements are rapidly transforming the global financial industry with Artificial Intelligence (AI) spearheading the change. About 37% of organisations have implemented AI in some form; that's a 270% increase over the last four years. It is predicted that Financial Institutions will see at 22% cost reduction in operating expenses after AI implementation.

The demand for AI talent has doubled in the last two years, with 60% being employed by financial and technology companies. It is estimated that 120 million employees will require retraining in technical know-how due to AI and automation.

According to a Deloitte report published in 2018, artificial intelligence in finance is changing how banks attract and retain customers and offers the chance for "significant market innovation".

However, this has already been demonstrated through the success of fintech start-ups the world over, with their services and products offering value to customers lured away from traditional financial institutions. It is only now that banks are beginning to catch up.